Cosmetic Surgery vs Plastic Surgery—What's the Difference?
Published on April 10, 2019 by
Kole Plastic Surgery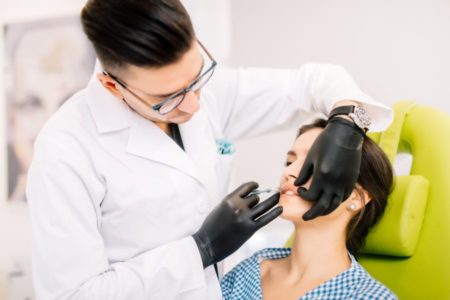 Plastic surgery is a medical specialty that can be used for cosmetic or reconstructive ends. The terms plastic surgery and cosmetic surgery are frequently used interchangeably, but there is some difference between these specialties. To define their difference, it helps to examine the respective goals of each type of medical specialty.
The Goals of Plastic Versus Cosmetic Surgery
The reason these two fields are so closely linked is that both of them change the appearance of the patient. The primary difference lay in the reason for the change of appearance. Plastic surgery is more specifically used to address an issue someone has with their appearance that is due to an underlying medical condition. Cosmetic surgery, on the other hand, is where someone, who is otherwise fine medically, simply wishes to enhance their current appearance.
Since cosmetic surgery does not seek to alleviate a problem caused by either a medical condition or damage or deformity caused by an accident, it is considered elective surgery. For this reason, it is not typically covered by insurance. Because the reconstructive surgery done in plastic surgery procedures are considered medically necessary to restore someone to normal functionality or pre-existing appearance, they are typically covered by insurance.
Examples of Reconstructive Versus Cosmetic Plastic Surgery Procedures
When you think of "plastic surgery," the types of procedures that are cosmetic in nature are usually the ones that come to mind first. These include:
This is in sharp contrast to those types of reconstructive plastic surgeries that someone may have to undergo because of some unfortunate circumstance. This can include deformities in appearance due to medical conditions or because of an accident. These types of procedures include:
Repair of a cleft lip or palate.
Breast reconstruction for breast cancer.
Burn treatment and reconstruction.
Hand or foot repair surgery.
Both the reconstructive and cosmetic types of plastic surgery carry certain risks. Of course, the person seeking plastic surgery for reconstructive purposes has less choice given the higher necessity of them undergoing the procedure. These risks or complications vary in seriousness and include:
Seroma (fluid buildup under your skin)
Things to Look for in a Good Reconstructive or Cosmetic Surgeon
Regardless of whether you're getting this type of surgery for cosmetic or reconstructive purposes, you definitely want to make sure you find the right surgeon. You, of course, want one who's specialized in the type of procedure you're planning to have done. Of all the times you've ever paid for anything in your life, please realize that plastic surgery is a big deal, and this isn't the time to put price first.
Don't even think about going with anyone who isn't a board-certified plastic surgeon. This will ensure they've met minimal requirements with regard to training and education to be competent in their field. You don't want to stop there though. Find out how many procedures of the type you're looking to get a particular surgeon has done. Also, check out what others have said about them on Google reviews and any other review sites you can find.
If You Need Cosmetic Plastic Surgery in Bucks County
At The Kole Plastic Surgery Center, Dual board-certified Plastic and Reconstructive Surgeon, Dr. Edward S. Kole, performs all of our procedures. He's been practicing since 1998 and is knowledgeable in all aspects of cosmetic and reconstructive surgery. That said, he has a specialized interest in cosmetic surgery as well as non-invasive procedures such as laser skin rejuvenation and injectable treatments. With his two decades of experience, he will listen to what you're looking to achieve from your procedure and discuss all of your options with you so you can make an informed decision. This is a big decision in your life, so wherever you live, make sure you see the right doctor, and this will help to ensure you're satisfied with your results.