Tips for How to Maintain Your Cosmetic Surgery Results
Published on January 3, 2020 by
Kole Plastic Surgery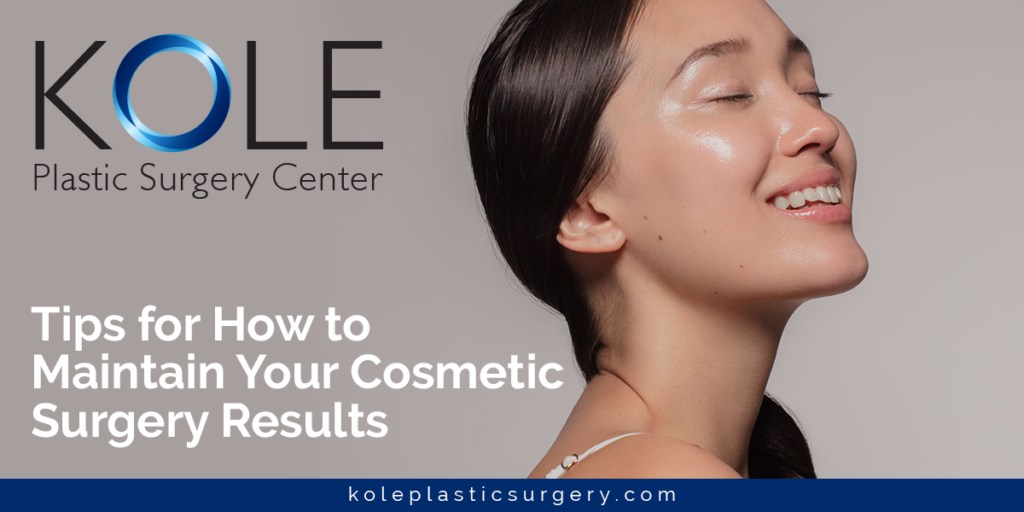 At The Kole Plastic Surgery Center, we are proud of the work we have been able to achieve in helping patients look and feel better as a result of any number of cosmetic procedures we have done over the years. All of these procedures are done by board-certified plastic surgeon Dr. Edward S. Kole.
With over 20 years of experience in this field, I know the importance of patients retaining the look they've realized from my cosmetic work. Because I want my patients to be happy with their appearance for many years to come, there are tips I recommend that they follow.
Diet and Exercise
Maintaining or adopting a good diet is critical to retaining your surgical results. This is especially important if you have had some type of body contouring surgery. As great as liposuction is, it is not magic. While it removes existing fat cells in a given area, gaining weight through poor diet will ruin the admiring contours you invested your hard-earned money to achieve.
Exercise is, of course, also important at maintaining a healthy weight and ideal body contour. If you've had a procedure involving skin tightening, such as a tummy tuck, packing on weight can stretch your skin out again. On the bright side, how good you look after you have had cosmetic work done at my plastic surgery center will encourage you to follow a good diet and exercise regularly because you won't want to lose your fantastic results!
Post-Operative Instructions and Good Skin Care
At The Kole Plastic Surgery Center, we know that recovery after a procedure is a critical time. I give my patients advice on what to do and what not to do to help their scarring heal more quickly. During and after the recovery period, proper skincare is also helpful. There are a number of procedures for which the right skincare products can help accentuate the results and give you healthier, more moisturized skin overall.
Curtail Certain Bad Habits
Unhealthy habits such as smoking and excessive drinking are never a good idea. That said, they are particularly detrimental when it comes to plastic surgery. Because tobacco can interfere with your results and healing, I recommend patients stop smoking for at least 8 weeks prior to and after surgery. These habits are bad enough normally, but you don't want them creating complications for your cosmetic surgery that you regret for years.

Your Plastic Surgeon in Bucks County and the Philadelphia Area
As the board-certified plastic surgeon who handles all the cosmetic procedures at the Kole Plastic Surgery Center, I am proud of the results I have helped residents in the Bucks County and Philadelphia area attain.
This state-of-the-art private surgical center is exclusively devoted to plastic surgery procedures. We have a full staff here including a board-certified anesthesiologist, registered nurses and a surgical technician, so we can handle any procedure you desire.
Please give us a call, and we'll set up an appointment, so I can talk with you one-on-one during a consultation to see how we can make you happier every time you look in the mirror. Call us today at 215 354-1010 to schedule your Free Consultation.