What to Expect From Laser Treatments
Published on July 5, 2019 by
Kole Plastic Surgery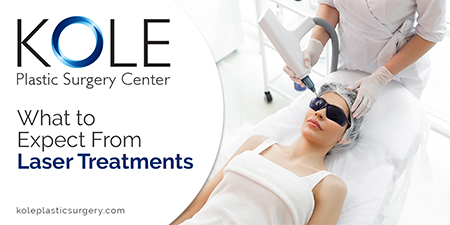 At the Kole Plastic Surgery Center, we are experts at utilizing laser treatments in the cosmetic surgery field to achieve skin rejuvenation for our many satisfied clients. Because laser treatments are noninvasive, there is little to no downtime or recovery afterward, and treatment appointments are fairly quick. Basically, these laser skin treatments in Bucks County PA involve the use of laser light to heat areas of your skin to stimulate collagen production and achieve skin tightening for a more youthful appearance.
What Can Laser Treatment Accomplish?
If you are looking for interventions that require actual plastic surgery, then laser may not be for you. While things such as a boob lift procedure or body sculpting will typically require actual surgical techniques, laser treatment does produce excellent results in the areas that it is generally used for.
Patients who are looking to remove unwanted tattoos, fade any age spots or sun spots, reduce acne scars or diminish wrinkles and fine lines may be quite happy with the results achievable from laser treatment. You'll also be very satisfied with the fact that, unlike a surgical procedure, a laser treatment does not take long to get, and you should be able to get back to your life right afterward. While each appointment is not too long, you will need a few laser sessions for most procedures, and these will be spaced a few weeks apart.
Your Initial Consultation
When you consult with your plastic surgeon, you will tell them what you are looking to achieve from any laser procedure you're interested in. A good plastic surgeon will give you a realistic estimate of what you can hope to achieve from any given laser procedure and whether or not laser may be the way for you to go for a given situation.
At the Kole Plastic Surgery Center, all of our procedures and surgeries are done by Dr. Edward S. Kole. He is a board-certified plastic surgeon who has been in private practice for about 20 years. At his practice, he combines his years of experience and the state-of-the-art laser equipment at the Kole Plastic Surgery Center to achieve the best possible results available from the technology. Dr. Edward Kole does the following laser treatments:
Laser Cellulite Treatment
Laser Liposuction
Laser Skin Tightening
Pigmented Lesion Treatment
How Long It Takes to Look Your Best
As stated, laser treatment has very little downtime in terms of having to wait through periods of discomfort to heal. That said, it will still take a couple of weeks before you are looking your best from the treatments. The heat generated from the use of the laser will remove dead skin on top and expose a fresh layer underneath. This new layer will range from pink to red in color for a few weeks after treatment. You should be able, however, to conceal any color changes with makeup until healing is complete.
Your Bucks County Plastic Surgery Expert
Whether you need laser skin tightening, a boob lift procedure or body sculpting, the Kole Plastic Surgery Center has the qualified staff, cutting-edge equipment and talented cosmetic surgeon to get the job done in a manner that will have you loving what you see in the mirror. If you are in or near Bucks County and looking for plastic surgery or a laser or injectable treatment procedure, please contact us at your earliest convenience. At the Kole Plastic Surgery Center, we offer the full range of cosmetic surgery options. Dr. Kole will consult with you and tell you everything you need to know to make the best choice for your unique situation.