Why is Liposuction the Second Most Popular Cosmetic Surgery?
Published on July 19, 2019 by
Kole Plastic Surgery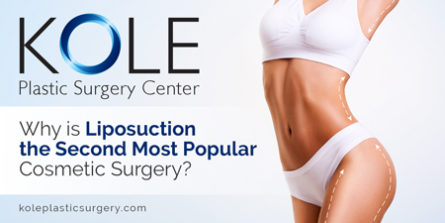 Finishing right behind breast augmentation, liposuction is the second most popular cosmetic surgical procedure in the country with nose surgery in third place. This does not include minimally invasive procedures such as the use of injectables or laser treatments, which continue to gain in popularity in their own right. There are many factors influencing the popularity of liposuction.
The Technology Has Advanced
Not surprisingly, liposuction technology, as with plastic surgery technology in general, has advanced considerably since the first liposuction was done in the 1920s. Basically, the procedure involves the use of a small tube that's attached to a suction machine that Dr. Kole inserts through a small incision. He moves the tube around in your body to break up the fat cells, and these cells are then sucked out by the attached machine.
For decades, the technology didn't really advance much. Your plastic surgeon would have to move the tube, or cannula, around in the patient's body quite vigorously to break up the fat cells, which could cause quite an amount of bruising. In recent years, however, laser-assisted, ultrasound-assisted and vibration-assisted machines have helped surgeons break up the fat with far less movement of the cannula. This has resulted in less bruising and shorter recovery times after your tummy tuck or other procedure in which liposuction may be used.
Liposuction Is Frequently Done With Other Procedures
There are a number of cosmetic procedures that can require some liposuction for their success. Facelifts, Tummy tucks and Brazilian butt lifts are procedures that frequently require liposuction to get the desired effect for the patient. A tummy tuck will almost always require sucking out some of the patient's fat in the area in addition to removing excess skin and restoring weakened muscles to give a more attractive abdominal profile. It's hard to say how many of the approximately quarter of a million liposuctions done a year in the United States are specifically for liposuction alone versus how many may be a small part of other procedures that a patient wants.
More Men Getting Plastic Surgery
This is a phenomenon that is boosting the number of all types of cosmetic surgeries as well as non-invasive procedures done every year. Just as some women may want to look more like a model, increasing numbers of men wish to look more athletic. Dieting may only take them so far, and then liposuction can help get rid of the rest of that gut or contour their chest or thighs just as they'd like.
Liposuction in Bucks County, Pennsylvania
If you live in the Philadelphia area, you are fortunate to be near The Kole Plastic Surgery Center. Dr. Edward S. Kole is a board-certified plastic surgeon, and he performs all the cosmetic procedures here in his state of the art licensed Ambulatory Surgical Center. As a plastic surgeon in the Philadelphia area who has been in private practice for about 20 years, Dr. Kole has done innumerable liposuction procedures whether on their own or as a part of a combination of procedures to bring about a patient's desired result.
The Kole Plastic Surgery Center has a board-certified anesthesiologist, registered nurses and a surgical technician, so we are fully prepared to do any plastic surgery procedure that you can imagine. This includes nose surgery, or rhinoplasty, in addition to tummy tucks, breast augmentations, facelifts, and a full range of other procedures on your face or your body. If you're contemplating plastic surgery in the Philadelphia area, please contact us, so Dr. Kole can have a consultation with you in which he'll ask you about your goals and let you know the best way to achieve them. Call 215 354-1010 today to schedule your complimentary consultation.