Liposuction After 10 Years: What to Expect
Published on June 6, 2018 by
Kole Plastic Surgery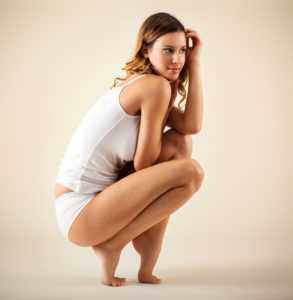 When considering liposuction, you may be wondering about the long-term results. If you are asking yourself, is this worth it or will I still look good in ten years from now, the answer to that question has more to do with you and less to do with the surgery itself. It is important to understand the science behind this body sculpting procedure and how your body works, before undergoing liposuction.
Liposuction surgery removes fat cells from areas of your body where stubborn fat pockets exist. After this procedure the fat cells in that specific area will not return. However, when you eat too much, those extra calories will need to be stored somewhere in your body. Your body is programmed to protect itself; thousands of years ago, people who could store fat lived longer when no food was around. If you have liposuction performed on your abdomen, it is possible to have the larger fat cells appear in your arms or back if you don't maintain your weight.
Does this mean that the liposuction procedure is not worth having? Of course not! This information only confirms what plastic surgeons have made very apparent; liposuction should not be used as a quick fix for weight loss. It should be used only in conjunction with exercise and a healthy diet to encourage long-term weight loss success. Liposuction is intended to reshape and recontour the body in the areas that diet, and exercise often can't help. However, if you do not change your diet and exercise habits after liposuction you may be dissatisfied with your long-term results.
Tips to Sustain Long-Term Liposuction Results:
Eat Well – Choose a well-rounded diet, high in vegetables and proteins and low in carbohydrates and refined sugars.
Drink Plenty of Water – Drink at least eight glasses of water a day. If you drink caffeinated beverages during the day, make sure to up your water intake by three times.
Exercise – Create a daily exercise routine. To start, you should exercise at least three to five times per week, rotating between cardio and weight training for optimal results.
Get Lots of Rest – Believe it or not, sleep is critical to maintaining a healthy weight. When your body is not rested, it is easy to pack on the pounds. Get at least eight hours of sleep per night.
Keep Stress to a Minimum – Chronic high stress can prevent you from losing weight—or even add pounds. In times of stress your brain instructs your cells to release potent hormones. You get a burst of adrenaline, which taps stored energy. At the same time, you get a surge of cortisol, which tells your body to replenish that energy even though you haven't used very many calories. This can make you hungry…very hungry.
What Do I Do Next?
If you are considering liposuction, contact The Kole Plastic Surgery Center to schedule a complimentary consultation. The Kole Plastic Surgery Center is Pennsylvania's premier plastic surgery provider and welcomes patients from Philadelphia, Southampton, and the surrounding communities. Dr. Kole will answer any questions that you may have about this procedure and help guide you in your decision-making process.