Are All Breast Implants The Same?
Published on January 12, 2017 by
Kole Plastic Surgery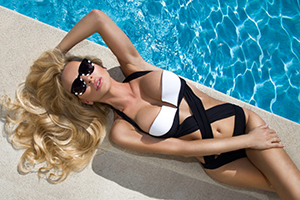 Breast augmentation is the most popular plastic surgery amongst women. As such, breast implants now come in a range of styles, shapes, sizes and even textures. Choosing breast implants for your surgery can seem daunting, but Dr. Kole provides the professional guidance you need to feel confident in your decisions. As part of the process for choosing your implants, he will describe what is known as "breast implant profiles."
What are Breast Implant Profiles?
A breast implant profile describes how much your implant will stand out from your chest when you are standing. The profile of an implant changes based on the width of the implant. You can have two implants of the same size but with different profiles. While the volume of the silicone or saline inside the implant may be the same, an implant with a smaller width will stand out from your chest more compared to a wider implant. The standard profiles for breast implants are:
Low profile implants that are relatively flat (provides the optimum proportions for women with wider chests)
Moderate and moderate plus profile implants that typically produce the most natural appearance and are recommended for women with narrow or small chests
High profile and ultra-high profile implants that provide the most projection as well as the highest degree of roundness and fullness (recommended for petite women with small chests)
Choosing the Right Implant
Choosing implant size and shape for your breast surgery is a personal choice. Dr. Kole will make recommendations based on several factors and then work with you to find the solution that best meets your personal desires. He will take measurements of your chest and other areas to recommend the breast implant that will balance your features. Dr. Kole will recommend a baseline breast implant size and shape, then the two of you will work together to make any changes based on your individual preferences. You may want a more subtle or dramatic change, or you may want rounder breasts. However you imagine your new breasts, Dr. Kole guides you along the process so that you feel absolutely confident in the outcome of your breast augmentation surgery.