Causes and Treatment of Brown Spots and Melasma
Published on September 27, 2015 by
Kole Plastic Surgery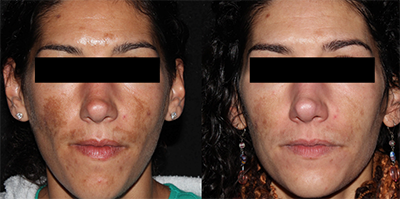 One of the most common complaints that skin care professionals, plastic surgeons and dermatologists hear about is uneven pigmentation, second only to aging and acne scars. Did you know that all three conditions are related to each other, as well as to a myriad of other skin problems that generally start to affect people after they hit a certain age?
Is there a reason why skin pigmentation plagues more women than men? And more importantly, are there any treatments that can effectively solve such problems and help bring back the confidence that was shattered due to a less desirable appearance?
What Are The Factors Behind The Increase In Skin Pigmentation Issues?
This is an accepted fact by plastic surgeons and dermatologists everywhere that often, the most difficult issue to tackle in the treatment room, stems from a number of factors that affect changes in skin pigmentation. The most challenging of these issues is of the proper treatment of melasma.
Dubbed as the 'Mask of Pregnancy', hormonal changes due to pregnancy are largely to blame for occurrence of melasma in women.  We do know for sure that sun exposure and hormones play a large part in the occurrence of this skin condition, but still, much more needs to be addressed before coming up with an effective treatment.
Melasma: A New Understanding
Historically speaking; this skin condition was considered as a disorder of hyper-pigmentation, one which primarily affected women due to their hormonal changes. Today however, it's more complicated than that.
The main triggers of this condition other than hormonal changes are:
Family history
Age
UV exposure
Seeing as such is the case; even if there hasn't been much UV exposure, people can still get melasma, because hereditary factors often play a very large part in deciding who gets affected by the condition and who doesn't. Melasma has been known to get worse due to over exposure from the sun as well, which means that a combination of factors are interrelated when it comes to this skin condition.
Treating Melasma: Keeping the Three Ps of Picosure in Tandem
A couple of years ago, treating something as simple yet complicated as melasma was very difficult. Now, advancements in technology have finally discovered an effective treatment, in the guise of the PicoSure Laser Treatment. With skin conditions starting from uneven pigmentation to melasma and everything in between, can now be treated easily.
When it comes to the complete treatment of any skin disorder and especially melasma, sufferers as well as doctors should give due attention to the 3 Ps for getting the maximum results possible, i.e. patience, persistence, and precaution. Even with such a revolutionary technology as PicoSure by Cynosure, these should be taken care of.
A condition needing persistent care and attention, patients must know the factors that trigger or worsen this skin condition so that better management can follow.
Do you wish to know more about this infuriating condition? Or, perhaps of the treatment that will clear away melasma from your face or hands and give you back long lost confidence? Get in contact with Dr. Edward S. Kole of the Kole Plastic Surgery Center and schedule your complimentary consultation today by calling 215-315-7655. Our Office and Licensed Ambulatory Surgical Center is conveniently located at:  1122 Street Rd Southampton, PA 18966