Loose Skin Solutions
Published on May 2, 2018 by
Kole Plastic Surgery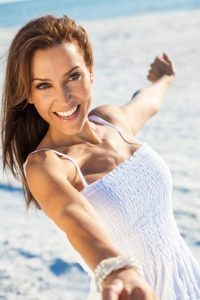 If you have tried everything to get into shape but are still not satisfied with your appearance due to extra or loose skin, it may be time to schedule a complimentary consultation with Dr. Edward S. Kole. No amount of diet or exercise will rid your body of excess skin, and this can be frustrating to women or men who have worked hard to lose weight and commit to living a healthy lifestyle. At The Kole Plastic Surgery Center, we are proud to serve our patients in accomplishing their aesthetic goals. We offer two types of loose skin solutions to suit the needs of any patient concern.
Plastic Surgery Options to Look Great and Get Rid of Loose Skin
If you are comfortable with a surgical option and are in good health, there are a variety of surgeries that we perform to help you tighten any excess skin.
Facelift – A facelift is a surgical procedure to improve visible signs of aging in the face and neck. It can tighten the skin and the underlying slack muscles to improve cheek, jowl, and neck contour.
Tummy Tuck – Abdominoplasty or tummy tuck is a surgical procedure in which the excess skin of the abdomen is removed, and the underlying abdominal muscles are tightened. If you have weak muscles after pregnancy or extra skin from weight loss, a tummy tuck may be for you. A tummy tuck is often accompanied by liposuction.
Arm Lift – An arm lift, or brachioplasty, is a surgical procedure that reduces excess sagging skin that droops downward under the upper arm. This procedure tightens and smooths the underlying supportive tissue that defines the shape of the arm.
Thigh Lift – A thigh lift is a surgical procedure that reshapes the thighs by reducing excess skin and fat, resulting in smoother skin and better-proportioned contours of the thighs and lower body.
Body Lift- A body lift is a surgical procedure that focuses on multiple parts of the body, either all at once or over the course of time. Depending on the location(s) of the surplus skin, there are many options with a body lift. You could choose to work on your body in portions: upper, mid, or lower body lift; or you could choose a section to start with such as the midsection, lower body, arms or legs. The largest and most complex of the body lift surgeries is the full body lift.
Non-Invasive Treatment Options
If you are not comfortable with a surgical option, we do offer non-invasive treatments to help with mild skin tightening for our patients.
PrecisionTx™ – Sometimes called the "Knifeless Facelift," PrecisionTx™ is a state-of-the-art procedure that uses laser-assisted technology to contour the areas on your neck, chin, and jowls. PrecisionTx™ rejuvenates the lower face by tightening the skin and deep tissues.
Dermal Fillers – Dermal fillers are relatively painlessness and can produce dramatic results. Injectable fillers add volume to aging, sagging skin. They can correct "commas" around the mouth, drooping cheeks, thinning lips and wrinkled skin around the mouth, forehead lines, and tired-looking eyes.
What Do I Do Next?
If you are considering either type of loose skin solutions, contact Dr. Edward S. Kole at The Kole Plastic Surgery Center to schedule a complimentary consultation. The Kole Plastic Surgery Center is Pennsylvania's premier plastic surgery provider and welcomes patients from Philadelphia, Bucks County, Montgomery County, and the surrounding communities.