A DIY Guide to Applying Latisse on Your Eyelashes
Published on August 9, 2016 by
Kole Plastic Surgery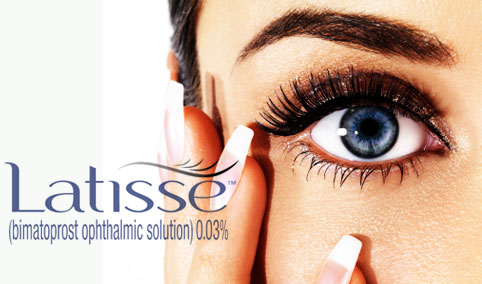 Eye beauty is essential to the overall appearance of women. Long, thick and dark eyelashes make a woman appear stunning, which is why for centuries women have applied mascara on their eyelashes. But now science has found a way to make your eyelashes thick and long naturally. Latisse® is the answer to the prayers of those women who are tired of applying mascara to their eyelashes. Note that Latisse® is not a cosmetic product; it is a drug that has to be applied only after a doctor's approval. But you do not have to visit a doctor for applying Latisse® on your eyelashes. Here is a do-it-yourself guide for applying Latisse® on your eyelashes.
Step 1:
Pre-Application Requirements
Latisse®should be applied after the removal of contact lenses and makeup from your face. It is recommended that you apply it after you have thoroughly washed your face and applied all other facial care products.
Step 2: Where is the Applicator?
Latisse® provides its users with the sterile applicator that should be used when applying Latisse® solution to your eyelashes. A drop of Latisse® solution should be placed on the applicator, but ensure that the tip of the Latisse® bottle should not touch the applicator. Also remember to dispose the applicator immediately after use. Using the same applicator over and over again may cause eye infections.
Step 3: Let's Do It
Now after you have that drop on the applicator, the next step is to apply it carefully along the baseline of your upper eyelashes (the baseline is the area where your eyelashes meet your eyelid's skin). Be careful and do not apply on the eyelashes on lower eyelid. Because doing so may cause excessive hair growth possibly causing inflammation of the cornea that may turn your light colored eyes brown. Also it is important to mention that if the Latisse® solution slips into your eye, there is no need to panic and no need to rinse your eye. Latisse® is made from chemical compounds that are not harmful for the eyes.
Step 4: Wipe Off Excess Solution
This is very important, so do not even think to overlook this step. Latisse® is a solution that triggers hair growth in any area where it is applied so in order to avoid such a situation, it is important that you wipe off the excess Latisse® solution that you have mistakenly applied beyond the eyelid area. After the application of Latisse® you can then wear your contact lenses after 15 minutes.
If you want to know whether the use of Latisse® is right for you, then you can contact The Kole Plastic Surgery Center and Dr. Edward S. Kole who are both committed to provide patients with exceptional patient care and surgical expertise. For more information, visit The Kole Plastic Surgery Center's website or call 215-315-7655.