The best way to remove a Multicolored Tattoo?
Published on October 13, 2015 by
Kole Plastic Surgery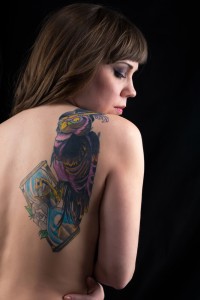 It might have been a good idea at the time, to get a multi-colored tattoo and that too, in a place where it can't be hidden, but the initial buzz of the tattoo wore off and now you are regretting the decision. Or, you wish to have a segment of the tattoo removed but multi-colored tats are not only hard to remove but costly as well, or so you have been told.
Whatever the case, now you can easily have your tattoo removed even if it's made up of the hardest and darkest colors, which was very hard to achieve before the arrival of PicoSure Tattoo Removal Technology. So what is PicoSure?
PicoSure Tattoo Removal by Cynosure
The technology is by far, considered to be the gold standard of tattoo removal and is making multi-colored tattoo removal quite possible now. Moreover, the arrival of this incredible technology is significantly impacting the entire way in which doctors treat and remove tattoos.
Before now, the removal of darker colors such as, blue and green was especially hard to achieve but not anymore! In addition, the laser can also effectively remove black color in a much faster manner than previous technologies; thus saving considerable time and money for the patient.
The Technological Advancement That Delivers
PicoSure brought by Cynosure is powered with the innovative and revolutionary 'picosecond' technology that produces ultra-short bursts of pulse energy directly into the skin in as little as the trillionth of a second. In other words, the time duration of a picosecond pulse is at least 100 times shorter than even the highly acclaimed nanosecond technology.
Secondly, the technology is made even more safe to use and reliable through the use of Alexandrite nanosecond lasers that are effective and reliable tools when it comes to removal of multi-colored tattoos. This certainly means good news for you, as with the help of this technology, you will be able to have your tattoo removed in fewer sessions as compared to previous technologies because of its ability to remove green, blue and other multi-colored ink in a rapid and thorough fashion.
Fewer Sessions Are Needed For Removal of Multi-Colored Tattoos
You must be wondering why so much emphasis is placed on this one point. Well, the simple state of the matter is that rapid removal of different colored ink means fewer sessions and that amounts to what? Low treatment costs, of course!
In fact; if we are to be more specific, most blue and green colored tattoos take as few as 1-3 treatments to be completely removed. Of course, this depends on the size of the tattoo and the type of ink used as well. But compared to other technologies where the complete removal of a tattoo requires significantly more treatments, PicoSure is surely an incredible innovation.
Do you want to have an unwanted tattoo removed, that you couldn't before? Well, now you can! All you have to do is call Dr. Edward S. Kole and his team at the Kole Plastic Surgery Center in Southampton Bucks County PA at 215-315-7655 today and schedule a private and complimentary consultation that will help remove all your doubts.