Your Ex Doesn't Have To Be A Constant Reminder! Have the Dreaded Tattoo Removed As Painlessly and Effortlessly As Possible
Published on September 16, 2015 by
Kole Plastic Surgery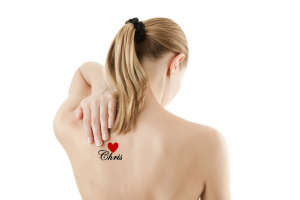 Imagine this scenario: You are invited to a summer wedding, and the forecast told by the weatherman doesn't even make sense. To top it off, the wedding is a semi-formal affair that is very much likely to be held outdoors, in the sweltering heat. It's expected that you would want to wear something loose and silky so that the chance of spontaneously combusting is reduced.
However, the dress is backless and you currently sport a very embarrassing tribute to an ex in the form of a tattoo, on your back. Oh, and the ex is also invited to the party.
You can easily and effortlessly avoid this entire cringe-worthy situation! How, you ask? By opting for PicoSure by Cynosure for tattoo removal, of course!
PicoSure: Pulses Faster Than a Nanosecond and Is More Effective
First developed solely for tattoo removal, PicoSure by Cynosure is an aesthetic laser that is now also used to rejuvenate skin. However, this isn't why the PicoSure laser is considered different from other lasers!
This particular laser tattoo removal technology is the first and only one that works by the picosecond, which is 1000x shorter than even the nanosecond! This means that the PicoSure laser delivers ultra-short bursts of energy, directly to the skin in literally trillionths of a second.
As compared to traditional tattoo removal techniques, PicoSure is far less painful when it comes to removing any tattoo types, which is probably why more people are opting for this treatment.
What Does The Treatment Feel Like?
While PicoSure can be a quick and effective way for tattoo removal, this doesn't mean that you won't go through some discomfort. Compared to other laser removal technologies however, the discomfort is minor and is often compared to a rubber band snapping the skin, which can be tolerated by following appropriate pain management. This follows a sensation the same as that of mild sunburn and a slight itch on the treated area.
Are There Any Immediate Side Effects?
PicoSure by Cynosure is the only laser tattoo removal treatment which can also be used for the purpose of skin rejuvenation, discoloration and acne scars. In its treatment, it's not uncommon for the skin to show a pink tinge that lasts for a few hours after the treatment.
Application of sunscreen on the affected area is also recommended, for at least a few days after treatment.
What Results Can Be Expected, Ideally?
In addition to being a tattoo removal treatment, PicoSure is also able to reduce, or completely remove pigmented skin lesions, appearance of scars, fine lines and stretch marks, pore, wrinkles, etc. Some prefer to get the treatment for their uneven skin tones as well.
There are so many reasons why PicoSure Tattoo Removal Laser treatment is the better option. Want to know more about the procedure? Give a call to Dr. Edward S. Kole of The Kole Plastic Surgery Center today  at 215-315-7655 and take advantage of a complimentary consultation! Operating in the Philadelphia region since 1998, we certainly are the best at what we do!