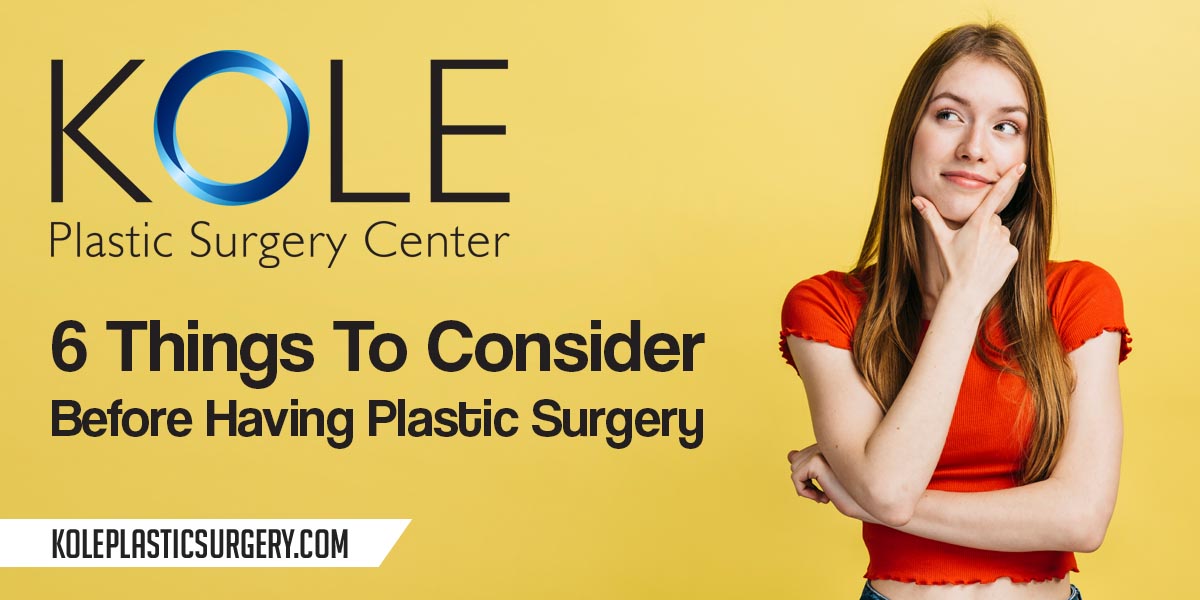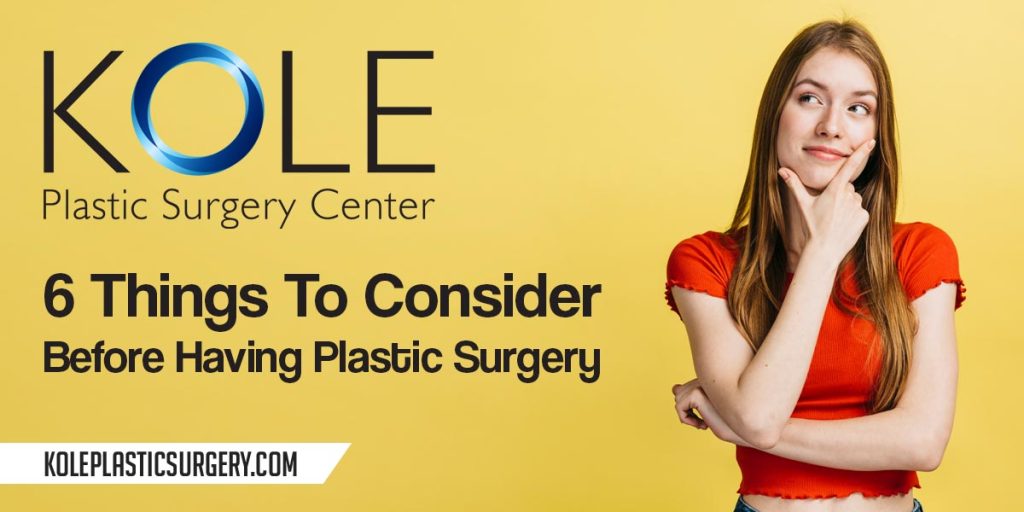 The new year is approaching and this is the time we make resolutions and plans for change. One of those resolutions may be to make changes to your look through plastic surgery.
Making the decision to have plastic surgery requires diligent planning, research, and consideration. It is important that our patients are as informed and prepared as they can possibly be prior to having any surgical or non-surgical procedure done Kole Plastic Surgery Center.
Here are 6 Things To Consider Before Having Plastic Or Cosmetic Surgery:
Please, Don't Have Plastic Surgery for the Wrong Reasons!
Cosmetic surgery is elective surgery, meaning that it is medically unnecessary. You should want to improve a certain part of your body that bothers you. Cosmetic surgery should be done to please nobody but you!
Don't Have Plastic Surgery Until You Are Truly Ready
Surgery, even cosmetic surgery such as a laser procedure or Coolsculpting, can be tough on your body. You should be in good health and minor disorders such as high blood pressure should be under control prior to any operation. Be sure to exhaust all other options, such as diet and exercise, before having surgery, as that may solve your issues.
Don't Have Plastic Surgery To Look Like Somebody Else
Each patient has specific physical characteristics and traits that define them, and that's a good thing. A competent plastic surgeon will try to refine or enhance certain body parts to improve one's overall look, not mold them after another person.
Don't Do Too Much, Because Too Much Is Too Much.
Good plastic surgery improves or enhances body parts in an artistic and natural fashion. A sensible breast augmentation or facelift can provide an impressive and satisfying result. Facial fillers and Botox® offer an excellent option for facial wrinkles. However, combining too many procedures can make you start to look unnatural and unlike yourself.
Do Your Homework. Research Is Key.
I can't stress enough the importance of selecting a board-certified plastic surgeon with appropriate training and experience. While a doctor may be certified in another specialty, this does not mean that (s)he has experience in plastic surgery. Please do your research, check reviews, and ask around for recommendations and check their Google reviews.
Choose to Have it Done at a Place You Can Trust
Be certain that your surgeon operates in a facility that is licensed by the state. Plastic Surgery & Cosmetic surgery should be done at a Licensed ambulatory surgical centers or Hospitals. Don't be shy about inquiring about these important safety factors.
Dr. Kole is a Board Certified Plastic and Reconstructive Surgeon. The Kole Plastic Surgery Center has been a licensed Ambulatory Surgical Center by the PA Department of Health since 2005.
Also, look for actual patient reviews to see who has trusted the plastic surgeon with their surgeries. Kole Plastic Surgery has over 200 5-Star Google Reviews.
To discuss your plastic surgery needs and concerns and to schedule a complimentary private consultation with Dr. Kole, please call the office at 215-315-7655. Our office and Licensed Ambulatory Surgical Center is conveniently located at: 1122 Street Rd Southampton, PA 18966.