Board-certified plastic and reconstructive surgeon Kole Plastic Surgery provides Cellulaze™ services in Southampton, PA, PA, and serves Philadelphia, Bucks, and Montgomery Counties. The Kole Plastic Surgery Center Center performs liposuction and other body contouring treatments for patients desiring a better look.
View Our Plastic Surgery Services.
What is Cellulaze™?
Age brings certain changes to your body that result in cellulite deposits on various parts of your body. You can exercise, diet, use lotions and creams, but still not be able to eliminate your cellulite. Body contouring through Cellulaze™ can help you get the look and feel of a much younger person with a minimally invasive procedure. Cellulaze™ is a revolutionary treatment option that attacks the very structure of cellulite under the skin and provides long-lasting results in a minimally invasive procedure.
Benefits of Cellulaze™
Cellulaze™ provides excellent destruction of hard-to-eliminate cellulite through the following benefits:
Minimally invasive technology
Less trauma means shorter recovery periods
Works on the fibrous bands of fat below the skin
Thickens the skin and provides more elasticity
Destroys the cellulite that exercise and diet alone can't
How is Cellulaze™ Performed?
Dr. Kole will mark the areas of cellulite to be treated with a marker, where a couple of very small incisions will be made (about the size of the tip of a pen). Using local anesthesia, the Cellulaze™ laser fiber is fitted through a very small tube and inserted into the small incisions. The laser levels out bumps of fat and treats dimples by releasing the fibrous bands that pull down on the skin. The entire procedure should take between one and one and a half hours.
Cellulaze™ Recovery
Because Cellulaze™ is not as invasive as traditional liposuction, you should only need a day or two of downtime after the procedure, after which you can resume normal activities. We do recommend that you delay more strenuous exercise for one or two weeks after the procedure.
You may experience some bruising for the next week or so, and you will be required to wear a compression garment for the first week or two.
You should expect to see results in one or two weeks after the procedure, with results peaking in up to six months as your body produces elastin and collagen.
How Much Does Cellulaze™ Cost?
Each person who comes to the Kole Plastic Surgery Center Center has individual needs, and costs associated with Cellulaze™ are based on the area to be treated and the amount of cellulite to be vanquished. Dr. Kole and his caring, professional staff will sit down with you to discuss your desired results, the treatment plan, and the costs associated with treatment.
The Kole Plastic Surgery Center Center accepts cash, check, and credit card (MasterCard, Visa, American Express, Discover).
Financing is also available through CareCredit, United Medical Credit, and Advanced Care.
Is Cellulaze™ Right for Me?
If you've tried everything to get rid of cellulite, yet are still not satisfied with the way your body presents itself, then Cellulaze™ is right for you. While Cellulaze™ works effectively on all types of cellulite, it performs best if there is not loose or excess skin hanging in the area to be treated. If your cellulite looks like a dimpled mattress or an orange peel or if you have depression areas without loose skin when standing, you are a good candidate for Cellulaze™.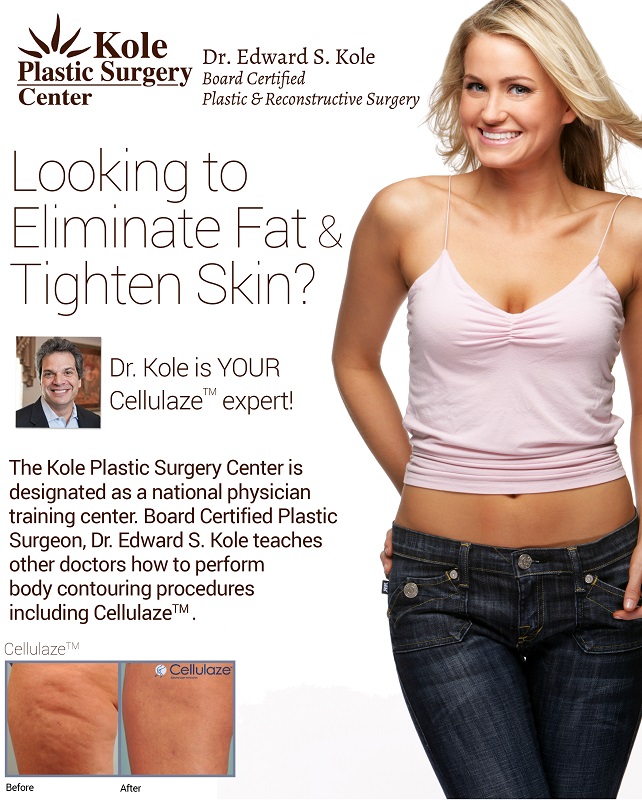 Why Choose Kole Plastic Surgery for Cellulaze™?
A board-certified Bucks County, PA plastic surgeon, Kole Plastic Surgery has the most advanced laser equipment and extensive experience in performing body-contouring procedures on men and women in his Southampton, PA cosmetic surgical center. Dr. Kole performs Cellulaze™ by using the SmartLipo™ Triplex, which is the most advanced form of laser technology designed to combat unwanted fat deposits. The three lasers used by the Triplex is considered more effective than most laser methods due to its tested coagulation technique for skin tightening.
What to Expect During Your Cellulaze™ Consultation
Believing that education is the key to making the best decisions, Dr. Kole and his staff strive to ensure you are completely informed about all aspects of Cellulaze™ to make your decision. Dr. Kole and staff will sit down with you to answer any questions or concerns you have and to develop the most appropriate treatment to get the results you desire. Dr. Kole's staff will go over the costs for the Cellulaze™ procedure, and payment options will also be discussed at this time.
Contact Us Today for a Consultation
No one likes cellulite, but this is a very difficult cosmetic issue to manage on your own. Men and women in Southampton, PA, Philadelphia County, Bucks County, Montgomery County and surrounding areas of Bucks County, PA, have discovered the secret to eliminating cellulite — Cellulaze™, a minimally invasive treatment by board-certified plastic surgeon, Kole Plastic Surgery. Now you can finally get rid of the unsightly dimpled appearance of cellulite, too! Contact us to schedule your personal consultation today!