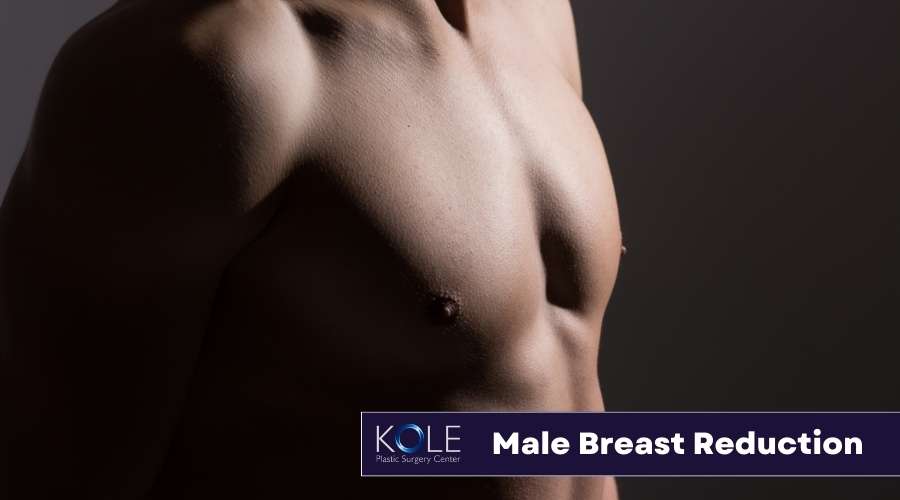 Centrally located in Southampton, PA and serving Philadelphia, Bucks, and Montgomery Counties, the Kole Plastic Surgery Center performs male breast reduction for men with gynecomastia who desire plastic surgery.
View Our Plastic Surgery Services.
You've heard all of the common derogatory terms for excess male breast tissue, but while excess breast tissue in men is an easy target for jokes, it's also an extremely common condition.
The main underlying cause of gynecomastia, or enlarged male breasts, is excess tissue and fat that can make the breasts appear larger and fuller. Male breast enlargement may be caused by excess fat or breast tissue or loose skin. While the exact causes of excess breast tissue in men aren't known, it affects a significant number of men and can be linked to excess weight, certain medications, or hormonal imbalances (especially during adolescence). Many of our patients have tried to correct the problem with diet and exercise, but that is often not enough.
The embarrassment men feel from enlarged breasts can have a negative effect on the outlook of their lives. Many men will avoid removing their shirts at the beach or will wear layers of clothes to hide their problem area. Fortunately, the male breast-reduction procedure is a simple, effective way to attain a more masculine-looking chest.
Male Breast Reduction Techniques
It's important to diagnose exactly what needs to be removed to achieve a slimmer, smoother chest. As a board-certified plastic surgeon in Bucks County, PA, Dr. Kole has years of experience that allows him to diagnose and treat gynecomastia with your individual anatomy and concerns in mind.
If you are considering surgery as a solution, then it's important to understand the techniques that are available to you.
Dr. Kole uses several techniques for male breast reduction. Men in Bucks County, PA who have relatively good skin elasticity can often achieve excellent results from liposuction alone. In the procedure of liposuction, the surgeon places a small incision at the lower lateral edge of the areola and at the fold of the armpit. He then inserts a thin, hollow tube called a cannula to loosen and remove the excess fat.
In some cases, Dr. Kole may recommend liposuction combined with extra breast tissue removal or breast tissue removal alone depending on your condition. In extreme cases, such as following massive weight loss or bariatric surgery, skin removal may also be necessary. Given all the options, it is important to choose a plastic surgeon that has performed many of these procedures and takes the time to listen to your goals, examine you, and explain your options.
As with all cosmetic surgery, you are most likely to be satisfied with your results if you maintain realistic expectations for your male breast reduction procedure.
What Is the Cost of Male Breast Reduction in Philadelphia and Bucks County?
The cost of male breast reduction for gynecomastia depends on the extent of treatment necessary to achieve optimum results.
The Kole Plastic Surgery Center Center accepts cash, check, and credit card (MasterCard®, Visa®, American Express®, Discover®) as acceptable forms of payment.
Financing is also available through CareCredit®, United Medical Credit and Advanced Care.
For other Frequently Asked Questions regarding Male Breast Reduction visit our FAQ page
Contact Us Today for a Consultation
Dr. Kole is a "The Manly Zone" top rated Gynocomastia Surgeon!
Gynecomastia is a medical condition that causes the breasts on a man to be enlarged and have a feminine shape and size. Board certified plastic surgeon, Kole Plastic Surgery, offers male breast reduction for men in Southampton, PA, Philadelphia County, Bucks County, Montgomery County and surrounding areas of Bucks County, PA. The surgery gives the chest area a more contoured and masculine appearance. To learn more about male breast reduction, contact us to schedule a personal consultation with Dr. Kole.