Board-certified plastic and reconstructive surgeon Kole Plastic Surgery provides PrecisionTx™ services in Southampton, PA, PA, and serves Philadelphia, Bucks County, and Montgomery County. The Kole Plastic Surgery Center Center performs liposuction for patients desiring a more refined look.
What is PrecisionTx™?
Age brings certain changes to your face and neck that sometimes cause you to feel less confident about your looks. Body contouring through PrecisionTx™ can help you get the look and feel of a facelift with a minimally invasive procedure. Sometimes called the "Knifeless Facelift," PrecisionTx™ is a state-of-the-art procedure that uses laser-assisted technology to contour the areas on your neck, chin, and jowls so that you can put your best face forward.
View Our Plastic Surgery Services.
Benefits of PrecisionTx™
PrecisionTx™ advances the field of facelifts through the following benefits:
Minimally invasive technology
Less trauma means shorter recovery periods
Controls the amount of heat used to shrink fat cells for optimal results
Tightens the skin and deep tissues
Rejuvenates the lower face, jowls, and neck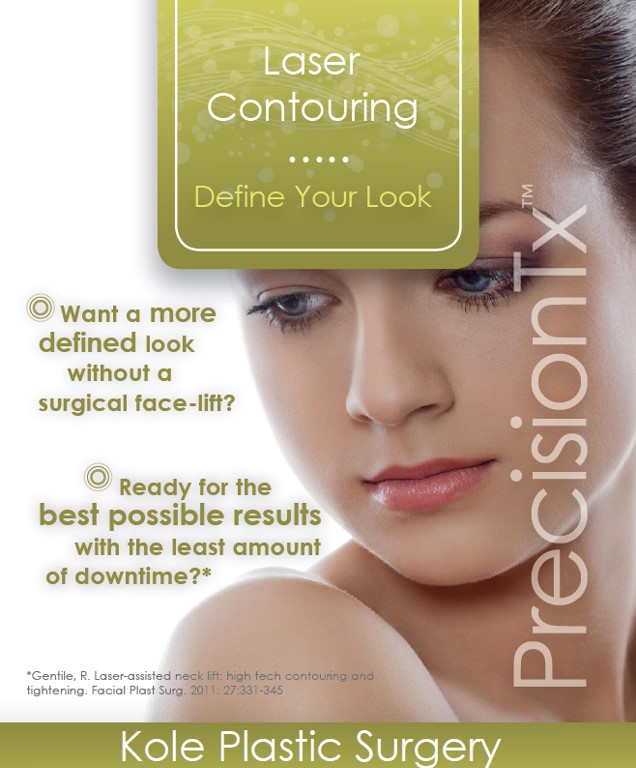 How is PrecisionTx™ Performed?
PrecisionTx™ uses a special laser-tip surgical instrument to pinpoint areas of fat to be destroyed. The treatment usually starts with small holes that don't require any stitches under the chin and near each ear. A local anesthetic is applied under the skin of the neck and face, and the laser-tip surgical instrument is used directly on the affected area. This laser heats the skin and the underlying tissue, melting fat layers and tightening the subcutaneous tissue. The actual lasering takes only about 20 minutes.
PrecisionTx™ Recovery
Since PrecisionTx™ is an advanced, non-invasive procedure, you shouldn't experience any downtime following your treatment. Expect to go about your regularly scheduled activities and return to work immediately. The holes made to insert the laser tip tube close to the ears and under the chin will not require stitches, and you shouldn't experience much scarring. Depending on the results, you may receive a bandage on the points of entry and possibly be asked to wear a compression garment.
A few patients have reported feeling mild pressure and a feeling of heat where the treatment occurred, but this quickly disappears and shouldn't require further attention. If you do experience any pain or unusual sensations, you should immediately contact our office. We are dedicated to providing treatment that is comfortable and safe until you are appropriately healed.
How Much Does PrecisionTx™ Cost?
Because each person presents an individual need, costs associated with PrecisionTx™ are based on the area to be lasered and the amount of fat deposits. Dr. Kole and his warm, professional staff will sit down with you to discuss your desired results, the treatment plan, and the costs associated with treatment.
The Kole Plastic Surgery Center Center accepts cash, check, and credit card (MasterCard, Visa, American Express, Discover).
Financing is also available through CareCredit, United Medical Credit, and Advanced Care.
Is PrecisionTx™ Right for Me?
If you're unhappy with the way your face has aged over the years, but don't want a surgical facelift, than PrecisionTx™ is right for you. PrecisionTx™ is one of the safest and quickest procedures that will give you the results you want with the least risk. PrecisionTx™ is a good choice for both men and women who are interested in looking their best with a minimally invasive procedure.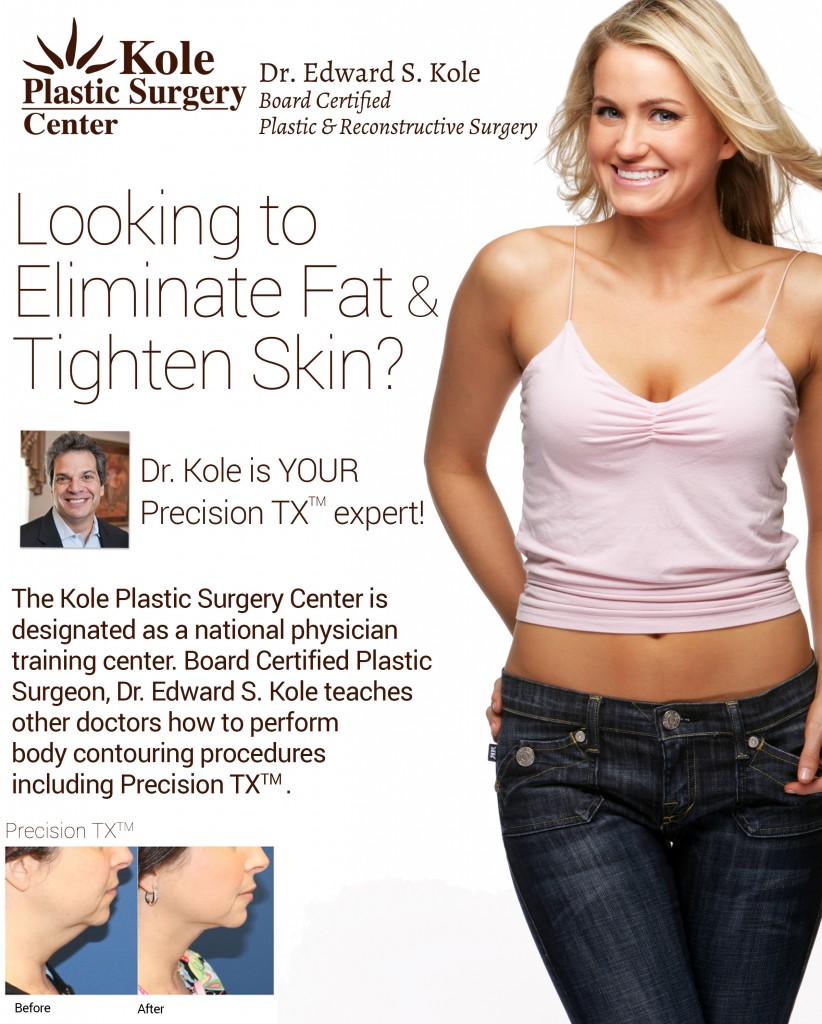 Why Choose Kole Plastic Surgery for PrecisionTx™?
Kole Plastic Surgery is a board-certified Bucks County, PA plastic surgeon with extensive experience in performing body contouring procedures on men and women in his Southampton, PA cosmetic surgical center. Dr. Kole performs PrecisionTx™ by using the SmartLipo™ Triplex, which is the latest generation of advanced laser technology. The three lasers used by the Triplex allow Dr. Kole to get rid of small and large fat deposits in your bothersome areas.
What to Expect During Your PrecisionTx™ Consultation
Dr. Kole and his staff strive to ensure you are completely educated about all aspects of PrecisionTx™ before making any decisions about your treatment. Dr. Kole and staff will meet with you privately to address any concerns, questions, and expectations you have, and will work with you to develop a plan of treatment that is in line with your desired outcomes. Dr. Kole's staff will go over the costs for the PrecisionTx™ procedure, and payment options will also be discussed at this time.
Contact Us Today for a Consultation
Excess fat and fat that has shifted due to aging change the appearance of your lower face and this adds years to your appearance. Now you can shrink the fat cells with PrecisionTx™ treatments for men and women in Southampton, PA, Philadelphia County, Bucks County, Montgomery County and surrounding areas of Bucks County, PA. To learn more about PrecisionTx™ by board certified plastic surgeon, Kole Plastic Surgery, contact us today to schedule your personal consultation.