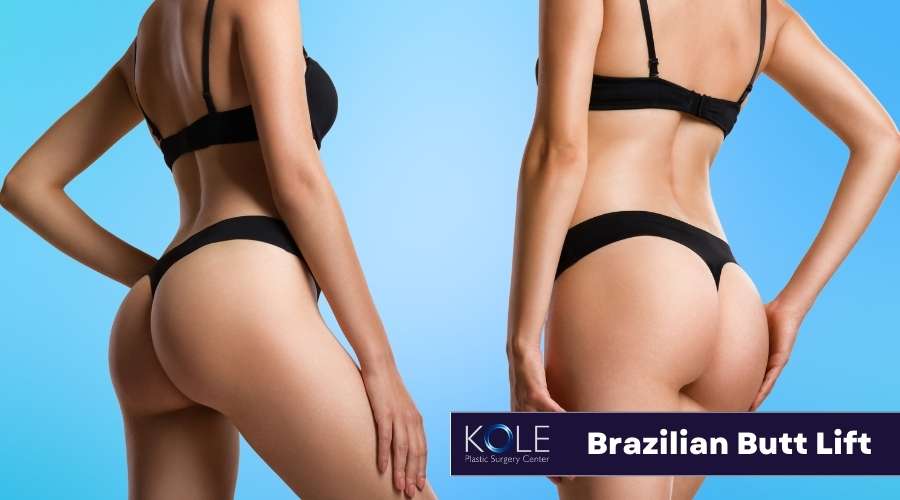 Centrally located in Southampton, PA and serving Philadelphia, Bucks, and Montgomery Counties, the Kole Plastic Surgery Center Center performs the Brazilian Butt Lift for patients desiring plastic surgery.
A Brazilian Butt Lift is a cosmetic procedure for altering the buttocks. Besides enhancing the shape, the procedure also improves the size of the buttocks in a way that better suits the patient's frame and gives them a sexier, more pronounced rear end. To perform this surgery, fat is removed from other areas of the body such as the belly, back, hips or thighs via liposuction. The collected fat is purified, and the highest quality tissue is then injected into the buttocks in a way that looks and feels completely natural.
The buttocks are one of those areas of the body where signs of aging show up the most. With time, the tissues here start to sag and fail to maintain their youthful shape. However, a Brazilian Butt Lift can help to thwart this natural side-effect of aging. It is a safe and reliable form of cosmetic surgery that uses the patient's own tissues to provide gorgeous and lasting results.
View Our Plastic Surgery Services.
Ideal Candidates for a Brazilian Butt Lift
Unfortunately, a Brazilian Butt Lift is not a suitable procedure for everyone. Ideal candidates for the procedure must be in good physical and emotional health, possess realistic expectations for the surgery, and have enough extra body fat to produce the desired results. Thin patients with a low body fat percentage often do not have enough spare fat to transfer to the buttocks, so these individuals typically make poor candidates for the butt lift procedure.
Advantages of the Brazilian Butt Lift For Bucks County Residents
Many patients looking to improve their posterior opt for a Brazilian Butt Lift over gluteal implants. The butt lift procedure using fat transplants helps guarantee that the results are as natural-looking as possible. Additionally, the odds of rejection by the patient's body are minimized considerably. What's more, since the procedure uses body fat harvested through liposuction, patients will receive the bonus of enhanced contouring on those areas where fat was taken.
Other benefits of the Brazilian Butt Lift procedure include little discomfort and minimal scarring as well as a lower risk of complications such as rupturing at the suture sites, infections and implant exposure. Of course, the most obvious benefits of a Brazilian Butt Lift are enhanced confidence and sexual attractiveness.
How Long Do Brazilian Butt Lift Results last?
After undergoing the Brazilian Butt Lift procedure, the fat that has been placed in the area will remain there for life. Like the other tissues, the new fat will still grow and age along with the rest of your body. For this reason, maintaining a healthy lifestyle is strongly recommended. Exercise may also help you to maintain the size and shape of your new buttocks.
How Do I Best Prepare for a Brazilian Butt Lift?
The cornerstone of proper healing after any surgery is preparation. Patients are strongly discouraged from smoking for one month before their surgery. This is because smoking increases the likelihood of complications, decreases healing ability and causes less of the injected fat to "take". Patients should also avoid taking aspirin or other blood-thinning drugs unless Dr. Kole tells them otherwise.
Preparing your home or recovery area before your surgery will significantly improve your peace of mind and allow you to rest and recover optimally. This is also when you should begin preparations for aftercare. It's recommended to have a trusted person drive you to and from your surgery appointment as well as check up on you or remain with you for at least 24 hours following the surgery, or an entire week if at all possible.
You can also make things easier on yourself by creating a list of things that need to be done and enlisting the help of friends, family members or a significant other. Create a comfortable, relaxing place to rest with additional pillows and blankets. Laying spare towels on your sleeping area will keep furniture or linens from becoming stained if any bleeding should occur.
Brazilian Butt Lift Procedure Description
Brazilian Butt Lifts are done as outpatient procedures using either local or general anesthesia. Body fat collected from the back, hips, belly or thighs are subjected to a purification process to isolate only the best quality of fat cells to be injected into your buttocks. By injecting these cells between layers of muscle and near a blood supply, the implanted fat cells are more likely to stay alive and not be reabsorbed. The fat also possesses stem cells that are able to turn into new tissue, so the procedure stimulates collagen production, which supports skin's thickness, elasticity, and texture.
Injecting the harvested fat cells at different depths ensures that patients experience the best rate of permanent absorption and a firm posterior. Tiny incisions are made in the buttocks to allow for the injection of the purified fat cells. Parts of the buttocks with a low volume of fat can be restored in this fashion, all while lifting the area and tightening the surrounding skin. The additional fullness provided by this surgery rejuvenates the buttocks and provides them with a more youthful and attractive shape. The surgery may take between 90 minutes and four hours. How long your particular surgery will take depends on a variety of factors, such as how much fat needs to be harvested, the location of the treatment areas and the size and shape you desire for your buttocks.
What to Expect After the Brazilian Butt Lift Surgery
After your procedure, Dr. Kole will ask you to wear a special compression garment. This helps to ensure proper healing and supports the buttocks in the early stages of recovery. Patients should avoid trying to place too much weight on their buttocks for several weeks after the surgery. Dr. Kole suggests that patients avoid sitting down for extended periods for at least two weeks. The upward pressure caused by sitting can push the fat out of position or cause the body to reabsorb a larger percentage of it. If patients have to sit, they should only do so on a sufficiently padded surface.
Dr. Kole also recommends that patients try not to sleep on their backs as this exerts too much pressure on the buttocks, which can alter the results of the procedure. Unless it requires strenuous physical activity, most patients will be able to return to work in two weeks. In approximately two months, discomfort, bruising, swelling and soreness should resolve completely. Patients can expect to feel normal again after two weeks on average, one month for resuming exercise regimens and six months to see the full results. Your buttock will be enlarged immediately after surgery.
What Is the Cost of a Brazilian Butt Lift in Philadelphia and Bucks County?
The price of a Brazilian Butt Lift varies for each person. The cost depends on the extent of surgery necessary.
The Kole Plastic Surgery Center Center accepts cash, check, and credit card (MasterCard®, Visa®, American Express®, Discover®) as acceptable forms of payment.
Financing is also available through CareCredit®, United Medical Credit, and Advanced Care.
Contact Us Today for a Consultation
You can love your fat and have a great posterior thanks to the Brazilian butt lift procedure by board-certified plastic surgeon, Kole Plastic Surgery. Men and women in Southampton, PA, Philadelphia County, Bucks County, Montgomery County and surrounding areas of Bucks County, PA love this approach to butt augmentation because it relies on using their own fat in lieu of implants. To learn more about a Brazilian butt lift, contact us to schedule a personal consultation.