Botox Treatment in Bucks County
Centrally located in Southampton, PA and serving Philadelphia, Bucks, and Montgomery Counties, the Kole Plastic Surgery Center Center performs Botox® treatment for patients desiring skin rejuvenation.
Benefits of Botox® Cosmetic
As a non-surgical option, Botox® Cosmetic has the advantage of being non-permanent. In addition, other benefits of a Botox® treatment in Southampton, PA, Bucks County, PA may include the following:
Reduced appearance of moderate to severe lines between the eyebrows
Reduction of forehead wrinkles
Reduction of crow's feet
Fast and noticeable results
Quick treatment with minimal or no downtime
Non-surgical treatment
Also, when Botox® is injected into the correct locations of the brow and forehead, it can act as a non-surgical brow lift. While the results are not comparable to a surgical brow lift procedure, the outcome is subtle and natural looking. During your consultation, Dr. Kole will discuss with you whether you are a candidate for a Botox® brow lift.

Botox® Cosmetic Procedure
To begin your Botox® Cosmetic treatment, Kole Plastic Surgery will personally administer the injections to the targeted area. Typically, treatment takes just a few minutes, and most patients return to work immediately after the procedure. A topical anesthetic may be used for patient comfort; however, most people report that Botox® is virtually painless. The needle used for the actual injection is smaller than what many patients use for their daily insulin injections.
Where can I get Botox®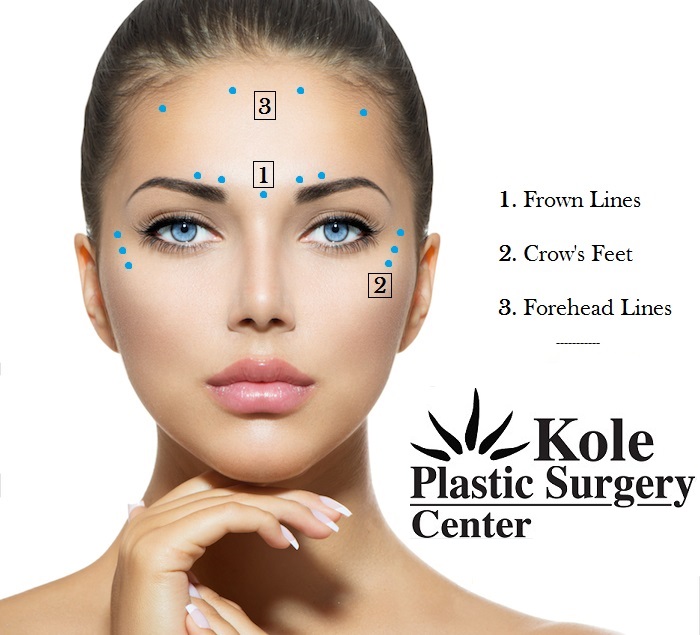 Botox® Recovery
Recovery from a Botox® treatment is easy because it is a quick procedure– most people are able to return to their everyday activities immediately following treatment. While some may experience slight swelling and bruising, these typically go away quickly. Results can be seen within a few days after your treatment and may last up to about 3 to 4 months. With continued use, the time needed between injections will increase.
What Is the Cost of Botox® in Philadelphia and Bucks County?
The cost for Botox® varies depending on the extent of treatment necessary to achieve optimum results.
The Kole Plastic Surgery Center Center accepts cash, check, and credit card (MasterCard®, Visa®, American Express®, Discover®) as acceptable forms of payment.
Financing is also available through CareCredit®, United Medical Credit and Advanced Care.
For other Frequently Asked Questions regarding Botox® visit our FAQ page
Contact Us Today for a Consultation
Botox® is the number one injectable anti-aging treatment in the world, and Kole Plastic Surgery, a board certified plastic surgeon who serves men and women in Southampton, PA, Philadelphia County, Bucks County, Montgomery County and surrounding areas of Bucks County, PA, achieves exceptional results with his Botox® treatments. Contact us today to schedule your personal consultation.