Board-certified plastic and reconstructive surgeon Kole Plastic Surgery provides SmartLipo™ services in Southampton, PA, PA, and serves Philadelphia, Bucks, and Montgomery Counties. The Kole Plastic Surgery Center Center performs liposuction for patients desiring plastic surgery.
View Our Plastic Surgery Services.
What is SmartLipo™?
As you age, your body shape changes, and it's sometimes very difficult to lose the last several pounds that are keeping you from having the figure you desire. Body contouring through liposuction can help you get the shape you want, but can't seem to get with diet and exercise. SmartLipo™ is a cutting-edge, minimally invasive procedure that uses laser-assisted technology that destroys fat cells with less trauma and shorter recovery periods than traditional liposuction.
Benefits of SmartLipo™
SmartLipo™ advances the field of liposuction through the following benefits:
Minimally invasive technology
Less trauma means shorter recovery periods
Treats the hard-to-lose fat areas effectively
Great for small pockets of fat on belly, hips, thighs, and under the chin
Encourages collagen production, which increases skin tone and tightens skin
How is SmartLipo™ Performed?
SmartLipo™ uses a special laser-tip surgical instrument that causes less nerve, tissue, and blood vessel disruption, resulting in less trauma. The area to be treated is cleaned and then marked by Dr. Kole. Most patients typically require only local anesthesia for SmartLipo™, which provides a much quicker recovery period and less risk associated with general anesthetic use.
After the anesthesia sets in, a very slim cannula (tube) is inserted into the skin in the area to be treated, and a small laser-tip fiber located in the cannula targets and liquefies the fatty deposits causing the unwanted fat bulges. The cannula is moved through the area until all fat deposits are destroyed, and the remaining liquid is either expressed out through the body's natural systems or is suctioned out through a small suction cannula.
Since the laser causes nearby blood vessels to coagulate immediately, there is significantly less bleeding with SmartLipo™. The entire treatment usually takes less than an hour to perform, and more than one area can be treated in the same session.
How is SmartLipo™ Different From Traditional Liposuction?
SmartLipo™ utlizes a cannula that is smaller than the cannula used in traditional liposuction. The laser in the SmartLipo™ cannula liquifies fat making it easier to remove. The laser also coagulates the blood vessels immediately on contact to reduce bleeding. This results in less swelling, bleeding, and bruising allowing a quicker recovery and reduced risk. Local anesthesia is used instead of general anesthesia. Pateints avoid risk and the groggy washed out feeling often associated with general anesthesia.
| | | |
| --- | --- | --- |
| | Traditional Liposuction | SmartLipo™ |
| Anesthesia | General anesthesia or IV sedation. | Local anesthesia. Patient is awake but comfortable. |
| Pain | No pain during procedure. Most patients require some prescription pain medication for several days. | No pain during procedure. Mild discomfort afterwards treatable with prescription pain medication or Tylenol. |
| Downtime | Mild to moderate downtime. Most patients return to work within 3-5 days. | Minimal downtime. Most patients return to work within 1 -2 days. |
| Scars | Cannula leaves 4-5mm scar in discrete places. | Microcannula leaves 3-4mm scar in discrete places. |
| Bruising | Most patients experience bruising. | Most patients experience very little bruising. |
| Results | Usually superior to SmartLipo™ as larger area can be treated. | SmartLipo™ provides exceptionally skin tightening for smaller problem areas. |
| Compression Garment | Compression garment ususally worn for up to two weeks. | Compression garment usually worn only for up to one week. |
SmartLipo™ Recovery
Because SmartLipo™ is less invasive than traditional liposuction, there is less downtime. You may or may not experience temporary discomfort or minor bruising after the procedure, but it will resolve within several days. We recommend only one or two days off of work, and usually most patients are able to return to work the next day. Dr. Kole recommends waiting two weeks before resuming any strenuous activity.
As the swelling and bruising resolves, you'll begin to notice the effects of the SmartLipo™ treatment. For best results, more than one treatment might be necessary depending on how much total fat you wish to have removed. The effects will be permanent but can be affected by dramatic weight gain or loss and regular aging effects.
How Much Does SmartLipo™ Cost?
Costs associated with SmartLipo™ are unique for each individual and are determined by the area that needs work and the amount of fat to be removed. Dr. Kole and his friendly staff will sit down with you to discuss your options and expectations and the costs associated with SmartLipo™.
The Kole Plastic Surgery Center Center accepts cash, check, and credit card (MasterCard, Visa, American Express, Discover) as acceptable forms of payment.
Financing is also available through CareCredit, United Medical Credit, and Advanced Care.
Is SmartLipo™ Right for Me?
The best candidates for SmartLipo™ are women and men who are not significantly overweight but have accumulated fat deposits in their abdominal area, love handles, bra area, male chest, inner or outer thighs, upper arms, or neck.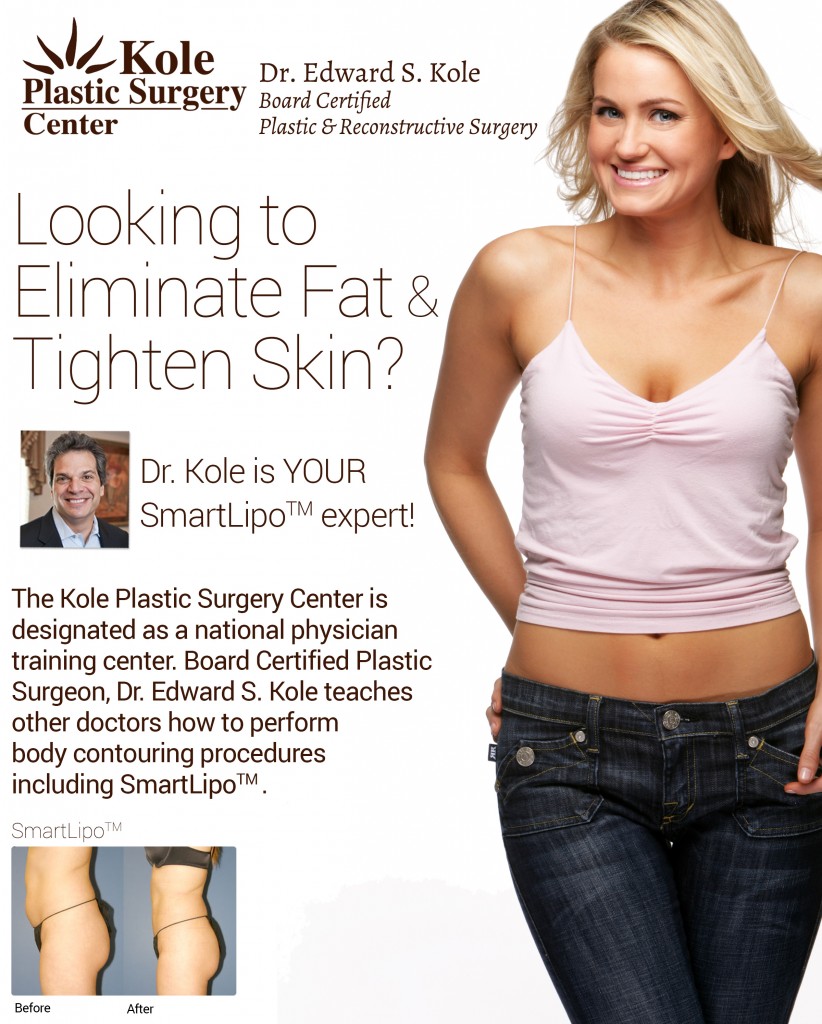 Why Choose Kole Plastic Surgery for SmartLipo™?
Kole Plastic Surgery is a board-certified Bucks County, PA plastic surgeon with extensive experience in performing liposuction procedures on men and women in his Southampton, PA cosmetic surgical center. Dr. Kole performs SmartLipo™ by using the SmartLipo™ Triplex, which is the latest innovation in laser assisted liposuction, and only laser lipolysis that incorporates three lasers into one treatment. He is the medical director and has exclusive access to the Kole Plastic Surgery Center Center; a PA Department of Health licensed private Plastic Surgery Ambulatory Surgical Center.
What to Expect During Your SmartLipo™ Consultation
Dr. Kole and his staff believe that an informed patient makes the best decisions about his or her treatment. Dr. Kole meets individually with each patient to discuss concerns, questions, and expectations, and to develop a plan of treatment that is in line with desired outcomes. The costs associated with the procedure and payment options will also be discussed at this time. Other fat reduction options including non-invasive CoolSculpting® and traditional liposuction will also be discussed at your initial consultation.
If You're In Bucks County PA, Contact Us Today for a SmartLipo Consultation
Say goodbye to those pockets of fat on your hips, abdomen, thighs and under the chin with SmartLipo®, an advanced body contouring treatment for men and women in Southampton, PA, Philadelphia County, Bucks County, Montgomery County and surrounding areas of Bucks County, PA. Find out how SmartLipo® will improve your body today! Contact us to schedule a personal consultation with board-certified plastic surgeon, Kole Plastic Surgery.