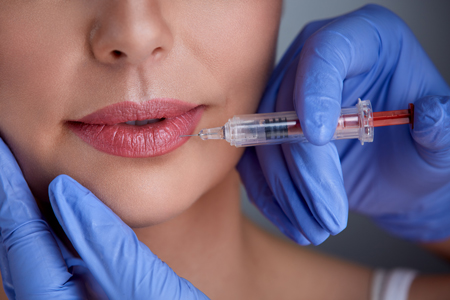 When you think about cosmetic procedures, the most common surgical types, such as breast augmentation and liposuction, may be the ones that come to mind. That said, non-invasive procedures such as injectables are also very popular because they can be done during a lunch break and deliver impressive results for many months. Some people get injectables to rid themselves of crow's feet while others use them to smooth fine lines in their forehead, but using them as lip fillers is another option. Thin lips are not considered attractive, and if you'd like fuller lips, the following are some things you should keep in mind before having this work done.
Know the Look You're Trying to Achieve
The last thing you want is to spend money to improve your appearance and end up being unhappy with the result. During your consultation with the cosmetic surgeon, you need to be sure to give them a very good idea of what look you're trying to achieve. Some people may want to replicate very full lips of a particular Instagram model or of a celebrity known for big pouty lips, but others may still want to keep a fairly natural look while simply boosting their lip volume a noticeable degree.
Consider Taking It Slow
In keeping with the above advice, if you're not absolutely sure about the desired final look for your new lips, you may want to take it a step at a time. You can have a certain amount of injectable filler put into your lips, and then you'll wait about three days for any swelling to go down. At this time, you can take a good look at them and decide if you want another injection of Juvéderm® or Restylane® or whatever filler your cosmetic doctor used. This is much easier than trying to undo too much filler used in the first place.
Prepare for Your Appointment
Your cosmetic surgeon may recommend that you take certain steps for about a week leading up to your lip augmentation appointment in order to get better results. For instance, aspirin, ibuprofen, Vitamin E and other anti-inflammatories will thin your blood, and this can cause more bruising after your appointment. Heed the advice of your cosmetic physician about any steps you should take leading up to your appointment.
The Procedure Is Fast and so Are the Results
One of the wonderful things about non-surgical cosmetic procedures is how quickly they can be done and how fast the results become apparent. There's no need to take a week off work as you might after a breast-augmentation or other invasive surgical procedure. Basically, it's so fast it can be done during a lunch break, and any swelling should be gone in a couple of days, and then the results should stay with you for up to 12 months.
Expect It to Cost Some Money
Doing what's necessary to look your best isn't always cheap, and this applies to more than cosmetic procedures. If you care enough about your appearance to even be contemplating lip augmentation, you undoubtedly already pay for a gym membership and pay for top-quality food and supplements. The good part, at least, is that injectables, being a quick and simple procedure, will be cheaper than surgical alternatives.
Research Your Doctor
We have saved the most important tip for last. You might think that finding the right doctor isn't that important since it's such a quick and simple non-invasive procedure. You're still talking about having someone inject something into your body, and your lips aren't exactly something you can easily hide if you go to someone who doesn't know what they're doing. You want to choose a board-certified cosmetic surgeon to handle this for you.
Lip Augmentation in Bucks County, Pennsylvania
If the thin lips you see every day in your mirror are too much for you to bear, then you'll want to contact the Kole Plastic Surgery Center. Our surgeries and procedures are handled by board-certified plastic surgeon Dr. Edward S. Kole. He is experienced at the full range of cosmetic surgeries such as breast augmentation, breast reduction, liposuction, tummy tucks, facelifts and rhinoplasty. He's also adept at non-invasive procedures such as skin resurfacing and utilizing injectables to restore volume and a healthy and youthful appearance to your face. This includes using Juvéderm® Ultra Plus XC to get the best and longest lasting results possible for helping you get the lips you want.