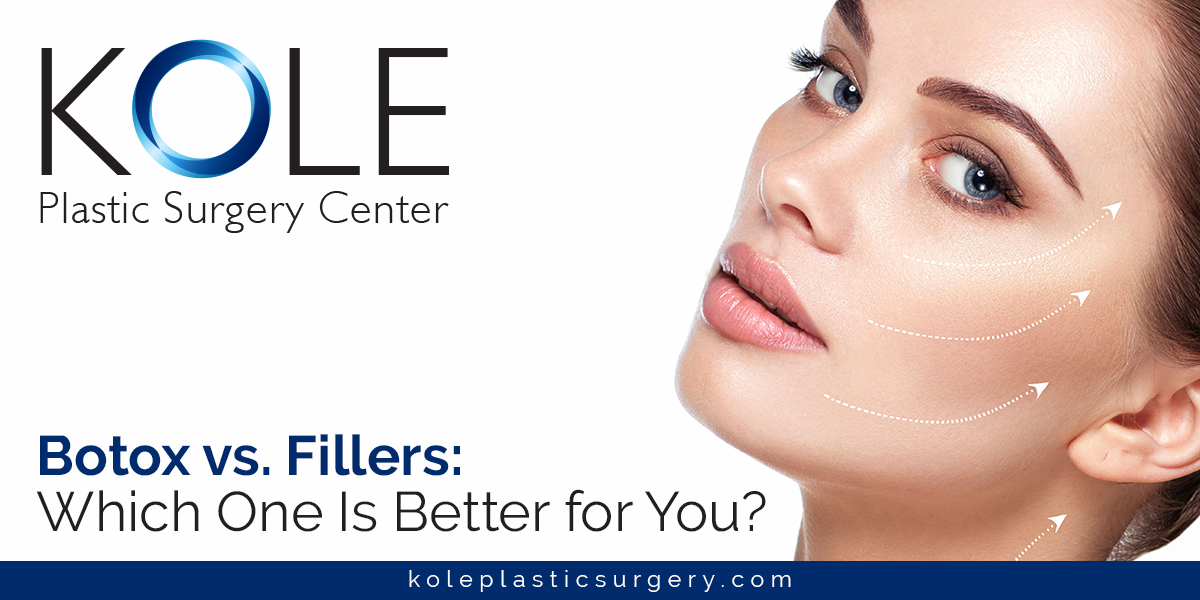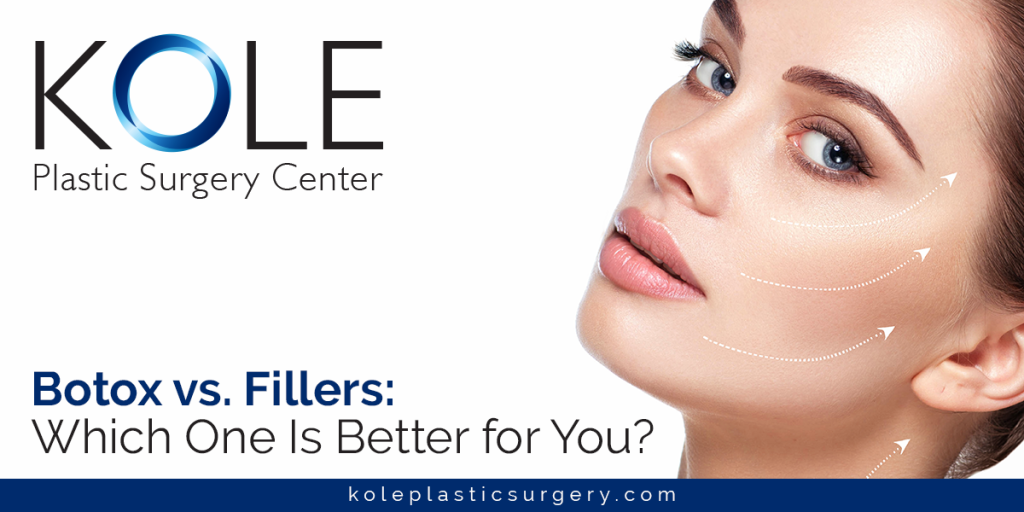 At The Kole Plastic Surgery Center in Southampton, Pennsylvania, we frequently get questions from prospective patients about the difference between Botox and injectable fillers and which of these treatments they should get. Both are excellent non-surgical cosmetic procedures with no recovery or downtime for reducing fine lines and wrinkles, but they each have their best uses.
The Difference in How They Work
Botox is a neurotoxin. We know that sounds scary, but it's actually very safe when handled and injected properly by an expert like our board-certified plastic surgeon Dr. Edward S. Kole. Basically, Botox works by making facial muscles relax by blocking the signals that make them contract. Fillers, as their name implies, fill in the indentation of wrinkles by adding volume to the area. Most of them are comprised of hyaluronic acid, which is a naturally-occurring substance in our skin.
Because of this difference, Botox is best for those lines that are caused by muscle contractions such as crow's feet and frown lines and the "11" lines between your brows. Fillers are best for eliminating wrinkles that are not due to muscle contractions in areas of the face that are at rest. Fillers are also excellent for injecting in your lips to restore lost volume and create full, voluptuous lips as well as the lines between the side of your nose and mouth.
Combining Them for Best Results
Frequently, the use of Botox versus injectables is not a one-or-the-other situation. Because they are ideal for different types of lines, Dr. Kole will sometimes use a combination of these two treatments together to get you the best possible results. You will start to see the wrinkle-reducing results from Botox in about 2-3 days to two weeks whereas you see results from injectables immediately. The effects of Botox last about three to four months whereas fillers can work for up to two years.
Getting the Right Treatment for You
While injectables are not as complicated as cosmetic surgery, there are still risks when done by an amateur. For this reason, you want to have any work of this type done by a board-certified plastic surgeon such as Dr. Kole. With over 20 years of experience at doing cosmetic work, I believe that informed patients make the best decisions regarding their procedures.
At our clean, private facility that is devoted to cosmetic procedures, I only use the fresh new vials of Botox because this helps the results last longer. This is why I schedule patients to come in on "Botox days," so they'll know they are getting Botox from a bottle that was opened that day.
If you are bothered by the site of fine lines and wrinkles when looking in the mirror or believe your lips, cheeks or folds between the nose and mouth could use more volume, please give my staff at the Kole Plastic Surgery Center a call today.
It is always best to have a professional consultation with an experienced plastic surgeon such as myself, so you will know all your options and can proceed from there.
Call us today at 215 354-1010 to schedule your Free Consultation.