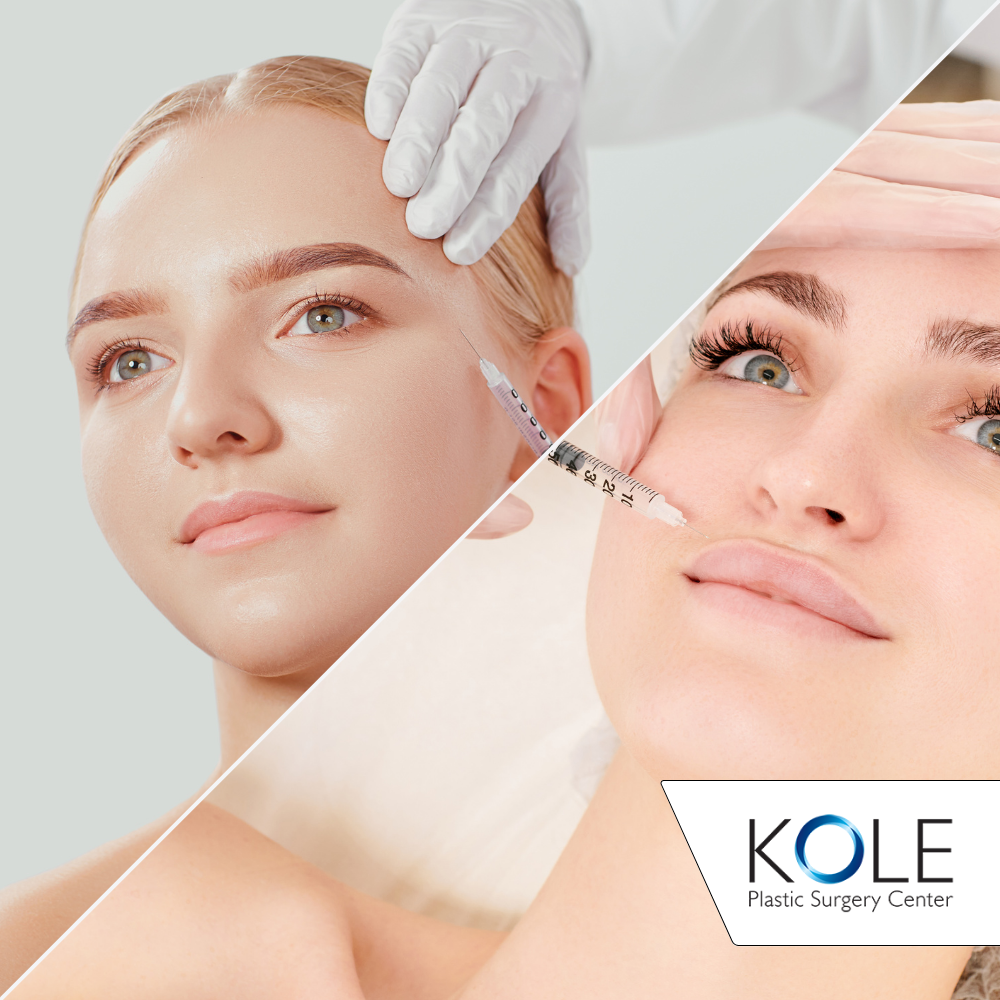 Plastic surgery is great for improving your appearance, but it's also known for having some recovery time afterward, which can mean time away from work. This has made nonsurgical procedures, such as injections of Botox® or Juvederm®, a popular alternative. 
While they can't match the full effects of a surgical procedure, not everyone may be in need of this. Injectables are simply one more tool in a plastic surgeon's arsenal, and where they are appropriate for use, they can produce excellent results for the patient.
Botox Benefits
Botox injections are mainly used to smooth fine lines and wrinkles around the upper face. Common areas for its use include the elimination of "crow's feet," or the fine lines emanating from the sides of the eyes, as well as its use in smoothing lines between the eyebrows, the "11" lines and on the forehead in general.
One tremendous benefit of Botox injections is that the procedure literally takes around 10 minutes, and there's no downtime for recovery. While the benefits are not permanent, they do last an impressive three to four months. 
Also, when Botox is injected in certain parts of the brow and forehead, it can create an effect similar to that of a surgical brow lift. Though the effect may not be as pronounced as the actual surgery, it can still be an impressive result for such a simple treatment.
Restoring Lost Volume With Juvederm
Juvederm is an injectable gel that is used by cosmetic surgeons to add volume to your face. As we age, we lose volume, which results in deeper wrinkles and sagging skin. It's composed of hyaluronic acid. This substance, which occurs naturally in our bodies, is what gives youthful skin its plump, full appearance.
Juvederm is most frequently used for filling out cheeks that have started to thin with age. It can also address a facial volume loss that was caused by a sudden weight loss. It can soften the areas around the mouth and nose and create the effect of a subtle facelift as the added volume and moisture smooths out wrinkles. Juvederm is also indicated for the nasolabial folds between the nose and mouth as well as the marionette lines which start at the corners of the mouth and radiate downwards. Swelling from the injections is minimal, and the results are nearly immediate. Best of all, the results of this improved facial contour can last up to about one year. 
Non Surgical Cosmetic Treatments in Bucks County
Whether you are having surgical or nonsurgical plastic surgical work done, you still want to be sure you go to an excellent plastic surgeon in order to get the best results. It's true that with injectable treatments the results only last a few months, but you still want the best results possible for that time. 
If you live in or near Bucks County or Philadelphia, The Kole Plastic Surgery Center offers a wide variety of surgical and nonsurgical treatments for any appearance issues you may wish to address.
When you make an appointment with us, you will have a consultation with Dr. Edward S. Kole. He is a board-certified plastic surgeon who has been practicing at this center since 1998. Over this time, he has done every conceivable cosmetic surgery procedure including breast augmentations, breast lifts, liposuction, tummy tucks, facelifts, neck lifts, rhinoplasty and other surgeries. 
He is also extremely experienced at giving you the results you desire with nonsurgical injectable treatments, and he even offers a much wider array of injectables than simply Botox or Juvederm.
If you are considering Botox, Juvederm, or any cosmetic injectable procedures, and are in Philadelphia, Southampton, Bucks County or the surrounding areas, please call Kole Plastic Surgery today so we can set up an appointment for your free consultation by calling 215-315-7655.