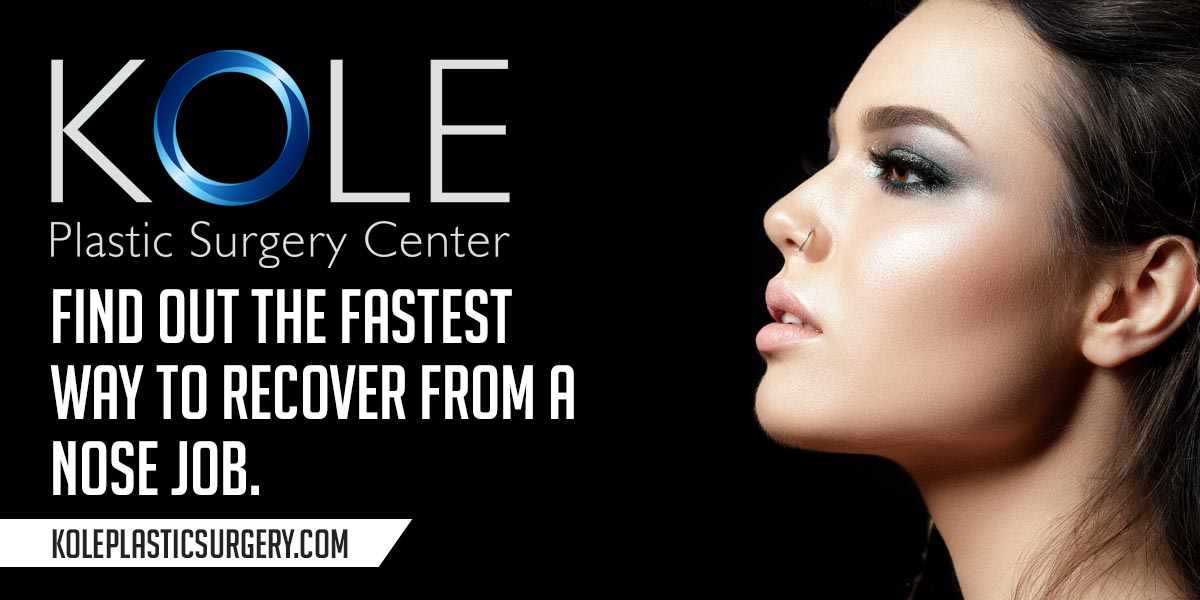 Rhinoplasty is a popular cosmetic surgical procedure and for good reason. It can help people breathe better, sleep better and improve the appearance of their nose.
Before you get to enjoy all the benefits of this cosmetic surgery, you first have to go through the recovery period. At The Kole Plastic Surgery Center, Dr. Edward S. Kole has given countless patients excellent advice for speeding their recovery after this procedure.
How Recovery Generally Proceeds After a Rhinoplasty
Before getting into specifics that may help speed your recovery, let's go over what's involved during this process. Immediately after the surgery, you will experience swelling, bruising and some pain and general discomfort in and around your nose.
At the end of the procedure, Dr. Kole will place a splint across the bridge of your nose to protect it from any injury while you recover. Also, depending on the specific work you required, he may place a soft silicone splint within your nasal cavity to help your nose set properly.
For general recovery guidelines, you should plan to rest for 24 to 48 hours after your surgery. Dr. Kole may have given you some prescription medications that you can take for these first couple of days and then Tylenol should suffice afterward.
Any bruising should be substantially reduced by a week after the procedure, and this is typically when Dr. Kole will remove the splint and any stitches you had. Swelling on the bridge of your nose will be substantially better after about two to three weeks.
By around week six, any bruising or swelling should be sufficiently gone for you to be able to start enjoying the appearance of your new nose.
Dr. Kole, What Can I Do to Speed My Recovery?
As a board-certified plastic surgeon with over 20 years of experience in this field, I can give you some recommendations to follow to speed your way to reduced swelling and complete recovery.
Do Not Take Anti-Inflammatory Medicines – Unless I instruct you otherwise, avoid these types of pain killers since they can dilate blood vessels, which can increase bleeding and swelling.
Take a Walk – Light exercise is beneficial for improving circulation in general, which can only help speed your improvement and recovery.
Eat Healthy – Your body needs a wide spectrum of nutrients to heal as efficiently as possible, so eat a diet rich in fruits and vegetables.
Follow Any Post-Operative Instructions I Give You – Many of the points mentioned here are general guidelines, but nothing will be as unique to your situation as the instructions I give you.
Plan Ahead to Take Time Off Work – A rhinoplasty is a surgery, so I don't want you to rush your recovery. Plan to take 7-10 days off from your job to rest and recuperate.
Stay Away From Any Nasal Passage Irritants – If you know you are allergic to house dust or that certain spicy foods irritate your nasal passages, then don't clean the house or eat these foods during your recovery.
Keep All Follow-Up Appointments – It's critical that you stick to any post-operative appointments set up for you. This will enable me to check on your progress and make any adjustments in my advice or instructions that will speed your way to recovery and enjoying your new nose!
If you have questions on these recommendations or wish to schedule a consultation for your nose job/rhinoplasty, please contact us today to schedule your free consultation, online or call 215-315-7655.