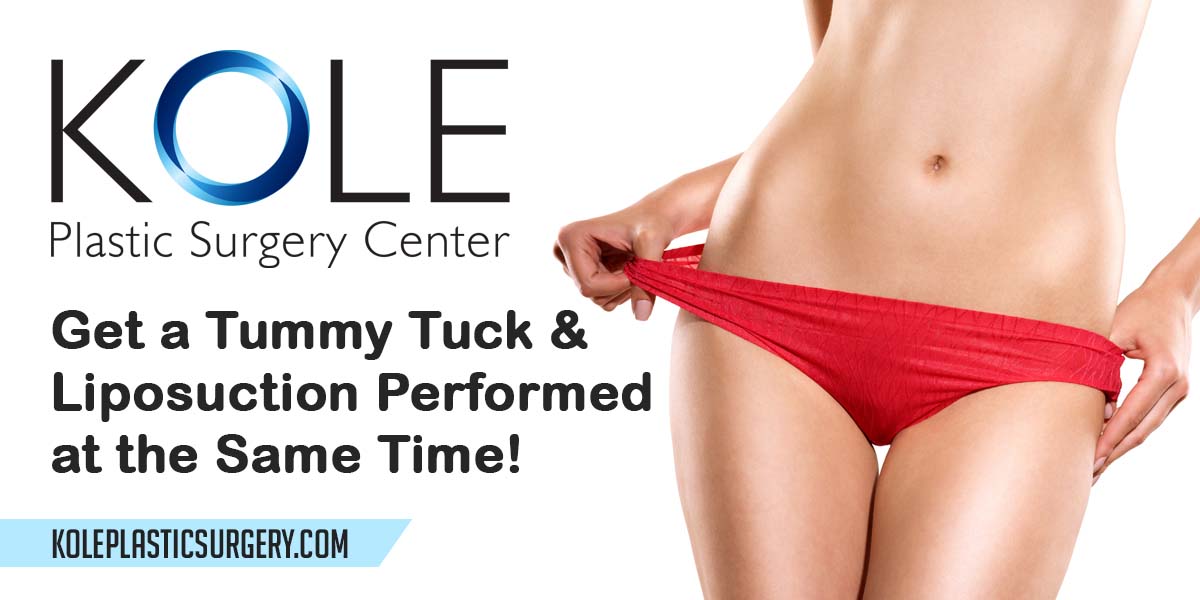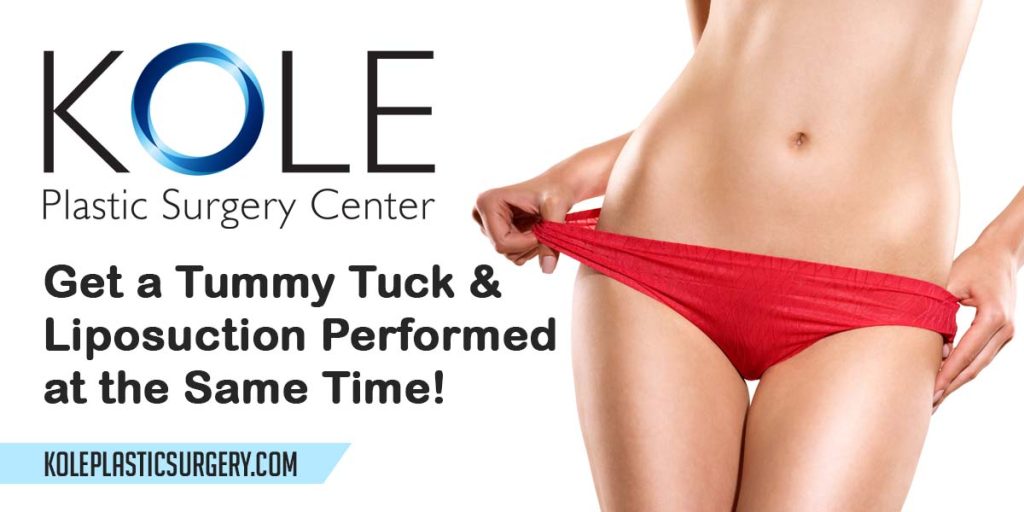 When patients are interested in Abdominoplasty, otherwise known as a tummy tuck, and Liposuction, as well, it is often best that they are performed in conjunction instead of two separate body contouring procedures.
This, of course, depends upon the medical history of each patient and considering specific body reactions to the following, yet not fully inclusive examples:
Prior Reactions to anesthesia
Level of pain tolerance during healing and recovery
Prior history of hematomas or infection from any other surgeries
Being an easy or slow healer in the past
History of bruising and swelling
History of fluid or edema build-up
Reaction to pain medication during post-op protocol
It is very important to consider all possible scenarios with Dr. Kole when sharing your desire to have both a tummy tuck and liposuction.  You may benefit from having your tummy tuck and liposuction performed together, as it is less risky when done this way.  Having a tummy tuck and liposuction together is commonly referred to as Lipoabdominoplasty.  These two procedures are performed together to offer the potential for superior results with reduced, minimal post-procedure complications.
Dr. Edward S. Kole, Board Certified Plastic Surgeon in private practice in Suburban Philadelphia, PA is experienced in the combination techniques needed to produce optimal outcomes from Abdominoplasty and Liposuction, as separate procedures and in combination.
Dr. Kole safety performs the combination procedure by taking all precautions needed to safely minimize any internal tissue damage, greatly benefitting his patients.  Lessening tissue damage is a huge advantage in having one procedure than having two separate, invasive procedures that affect your body twice.
Liposuction performed during a tummy tuck removes extra fat from your abdominal area and your love handles, otherwise known as flanks.  Basically, you are having custom contours detailed by an expert surgeon during your procedure.
After tummy tuck surgery most patients go home with drains in place, for a temporary period of time, in order to collect excess internal fluid that builds up under the skin.  This also happens after liposuction when performed as a solo procedure but drains are not used in liposuction.
When liposuction is performed during your tummy tuck and trauma to tissue is much more limited, Dr. Kole is able to remove more fat and tissue without increasing any additional tissue trauma, thus your fluid build-up will not be increased once you are in the post-op period and most optimal results will be accomplished during surgery.
Patients share their high satisfaction with improved self-esteem and a renewed confidence after tummy tuck surgery with liposuction.  There is a feeling of complete satisfaction about not needing to undergo liposuction at an additional time, in the future, and their enhanced figures reaped rewards while they had to only heal and recover one time.
Dr. Kole advises that if you are a candidate for this combination surgical procedure it is always beneficial to do the Lipoabdominoplasty only if you are able to have:
General anesthesia
Normal Incision healing and scarring properties
Adequate time off of work
Are able to have time away from exercising
No problems with the use of pain medication
Please contact The Kole Plastic Surgery Center at 215-315-7655 to schedule your complimentary free consultation with Dr. Edward S. Kole.  Our Office and Licensed Ambulatory and Surgical Center is conveniently located at:  1122 Street Rd Southampton, PA 18966
If the cost is an obstacle, there are plastic surgery financing options that are that can provide a loan that will help you pay for your tummy tuck, liposuction, or Lipoabdominoplasty.