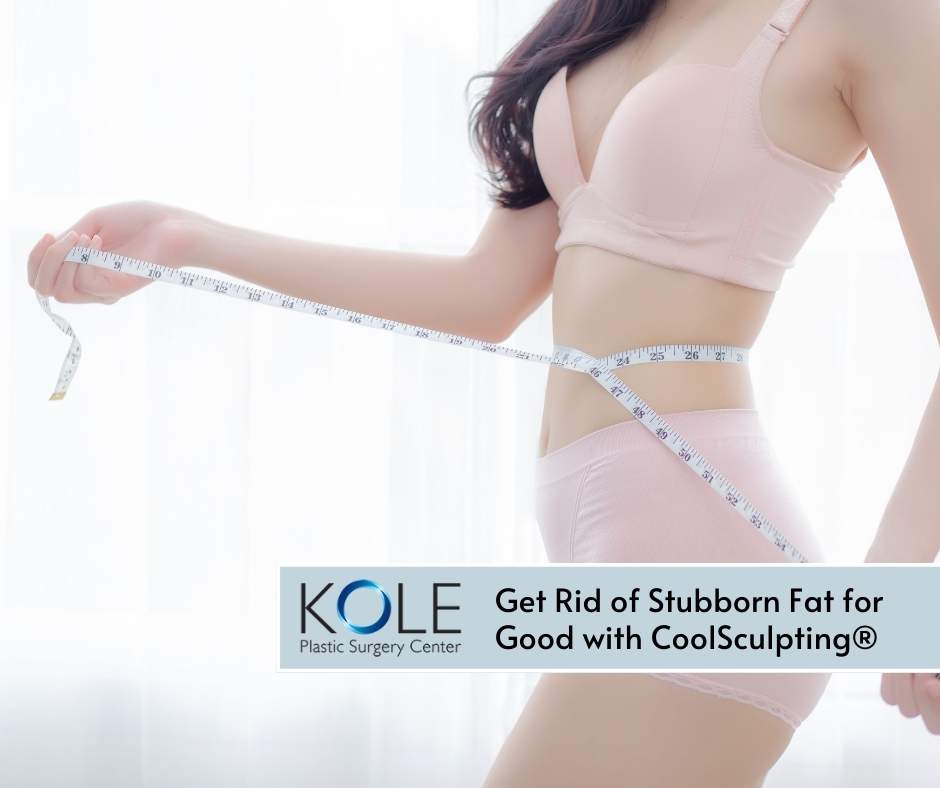 CoolSculpting® or cryolipolysis, is a cosmetic treatment designed to help you achieve your body contouring goals—with no surgery and little to no downtime. It is a non-invasive procedure, meaning it does not involve cuts, anesthesia, or instruments entering your body. CoolSculpting® is the cosmetic treatment Dr. Kole performs most for nonsurgical fat reduction.
You're active. You eat healthily. But if you still have areas of stubborn fat that won't go away, consider CoolSculpting®. CoolSculpting® effectively removes areas with stubborn fat. CoolSculpting® works by freezing fat cells and breaking them down. Your body naturally eliminates the frozen and broken-down fat tissues in the treated area within 4–6 months, which can result in up to 20-25% reduction of stubborn fat in the treated area. The procedure delivers lasting results. It destroys fat cells, so those particular cells will not return.
CoolSculpting
®
is FDA Cleared for 9 Areas of the Body
CoolSculpting® is FDA-cleared to eliminate fat from body areas that are more challenging to remove through diet and exercise. These areas are – under the jawline, under the chin, the upper arms, back fat, bra fat, the flank area (love handles), abdomen, thighs, and under the buttocks.

Get Your Personalized Plan
Consult with Dr. Kole to determine if you are a candidate for CoolSculpting®, if so, Dr. Kole will develop a personalized treatment plan for you.
A personalized treatment plan includes how many CoolSculpting® treatment sessions you will need to see your desired result. Each session may include multiple CoolSculpting® treatments. For most patients, Dr. Kole recommends two or more treatment sessions to reach their body contouring goals.
Does CoolSculpting® Work…What Does the Research Say?
Research points towards CoolSculpting® being a safe and effective treatment for removing some areas of fat with limited side effects. 
CoolSculpting® has an extremely high success and satisfaction rate among men and women, however, lifestyle and other factors also play a role. CoolSculpting® is not a weight-loss treatment or a miracle cure for an unhealthy lifestyle.
It works best on women and men near the ideal body weight for their build with pinchable fat on stubborn areas. A study notes that the Coolsculpting procedure was effective, especially in those with lower body mass. 
How Long Does CoolSculpting® Treatment Take?
A CoolSculpting® treatment typically takes as little as 35-75 minutes, depending on the area you wish to target. There is no downtime because CoolSculpting® does not damage other cells, such as the skin or underlying tissue.
For most patients, Dr. Kole recommends two or more treatment sessions to help them reach their body contouring goals. Patients, you may return for additional CoolSculpting® treatments in 6-8 weeks. After the procedure(s), it may take around 4–5 months for the fat cells to leave your body. In that time, the area of fat will decrease by an average of 20%-25%.
What is the Recovery Time for Coolsculpting?
CoolSculpting® is a non-invasive procedure so there is no recovery or downtime. Most patients do not find the treatment painful. It does not require cuts, anesthesia, or medications that could cause an allergic reaction. This means that the rate of complications and side effects is extremely low. 
Analysis in the Aesthetic Surgery Journal found that, of 1,445 people, only 12 people — fewer than 1% — reported experiencing mild side effects, such as less sensation in the treated area than before., swelling, bruising, sensitivity, redness, or mild localized pain. Since CoolSculpting® has little to no downtime, you can go back to your day right after treatment.
How Long Does CoolSculpting® Effect Last?
CoolSculpting® destroys fat cells, and those particular cells will not return. Destroying existing fat cells will not prevent new fat cells from appearing. Therefore, a healthy lifestyle is vital to preserving the results of CoolSculpting®. A person who does not exercise or follow a healthy diet may soon see fat building up again.
How Much Weight Can I Lose with CoolSculpting®?
CoolSculpting® is a fat reduction method, not a weight reduction method. It will not cause a person to lose significant weight. Continue to maintain your usual diet and exercise routine.
CoolSculpting® vs. Liposuction®
For people who want more rapid results in a single treatment, liposuction may be a better option. However, liposuction is more invasive, so it carries a much higher risk of complications than CoolSculpting®.
How much does CoolSculpting® cost?
The typical cost of its treatment ranges from $2,000-$4,000. However, areas that require small applicators, such as the chin and jaw, may range between $800–1,000.
The American Society of Plastic Surgeons 2020 statistics report shows that the national average cost for noninvasive fat reduction procedures is $1450. Prices vary depending on the number of treatments and the areas an individual wants to treat: 
CoolSculpting® is a cosmetic procedure that does not treat an underlying health condition, so insurance does not typically cover the costs.
Outlook
CoolSculpting® is an effective fat-reduction method. However, it does not apply to all and will not address the underlying cause of unwanted fat. People undergoing the procedure should couple it with lifestyle changes to prolong its results.
Consult with Dr. Kole Today
Dr. Kole is one of the best plastic surgeons in the United States. Dr. Kole has advanced medical training and a distinguished record of success in aesthetic medicine. Dr. Kole achieves exceptional results serving women and men in Southampton, PA, Philadelphia County, Bucks County, Montgomery County, and surrounding areas of Bucks County, PA.
Learn about all body contouring options available at Kole Plastic Surgery Center. Contact us today to schedule your personal consultation.