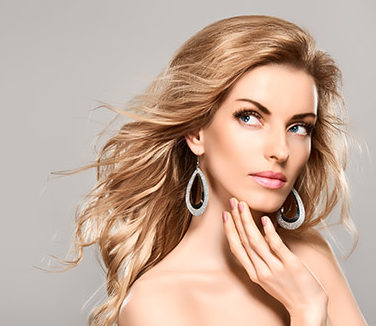 One consideration holding many women back from having breast augmentation is not being sure you'll get your desired result from the procedure. This is certainly understandable since you are modifying your appearance in a fundamental way, and you want to be sure it's an improvement.
At the Kole Plastic Surgery Center, we understand any concerns you may have and are experienced at addressing any potential issues. The first thing you should know is that breast augmentation has come a long way over the past couple of decades. This means more flexibility in achieving your desired outcome from the procedure.
Your Implant Shape Options
The breast implants that are inserted during a breast augmentation procedure come in two basic shapes. You can opt for a teardrop or a round shape. The teardrop type are also known as anatomical implants since they are shaped more like a natural breast. Conversely, round implants may not look as fully natural, but they add more volume to the upper area of your breasts, which gives you more cleavage.
Which Implant Texture Do You Prefer?
While all breast implants come in a silicone shell, you have a choice in the texture of that shell. It can be smooth or textured. Smooth implants are able to move around more readily in the breast, which is thought to bring about a more natural look. Textured implants are less likely to move around, which is why they're typically used for teardrop-shaped implants since they have to maintain their proper orientation in the breast.
The Choice of Implant Filler Material
While an implants exterior shell will be made of silicone, the filling material in the implant can be either silicone or saline. They each have their benefits. The gel structure of silicone is commonly preferred for its more natural feel. Saline implants are appreciated for less scarring during the procedure since they are filled after being inserted, which means they can go in through a smaller incision. There's also a new type known as the gummy bear implant. This is made out of a non-leaking silicone gel that's closer in consistency to Jell-O rather than that of honey as in the older silicone implants.
Choosing the Right Surgeon and Having Patience
At Kole Plastic Surgery Center, we realize the importance of choosing the right doctor for your breast augmentation. Our center is located in Bucks County, Pennsylvania, and all procedures are performed by Dr. Edward S. Kole. He is board-certified in plastic and reconstructive surgery and has been in private practice since 1998. During your consultation, he discovers what you're looking to achieve from a breast augmentation and provides you with all the information and options available so you can make the best decision possible.
We also feel it's important to let you know that you need to be a little patient after the procedure before you'll see the best possible results. It takes some time for healing and for the breast implants to settle down into the proper position in the breast pocket before they'll reach their maximum potential in terms of appearance. After a couple of months, you should see that you have achieved the desired results that you can be happy about for the rest of your life. If you are near our office in Southampton, PA, please contact us today, so we can schedule your consultation at your earliest convenience.