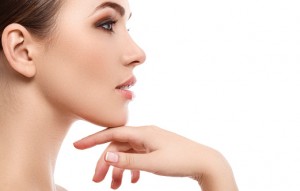 So you decided to get a chin implant done. Good for you! As one of the fastest growing cosmetic facial surgeries, chin implants have produced amazing results. With a stronger, more prominent jaw line, many people feel more confident and happier with their looks.
Whether you are opting for a non-surgical or a surgical procedure, you're still going to have to undertake certain steps in order to ensure that the process is stress free, you don't get to experience much of the side effects and you're happy with your look. The following pre and post planning tips can help you prepare for your chin implant surgery with ease.
Pre – Chin Implant Tips
Before you undergo your procedure, here are a few pre chin implant tips you should consider.
Have Faith in Your Surgeon
Whether you've had a similar procedure done before or not, make sure your surgeon is Board Certified in Plastic and Reconstructive Surgery. When you have faith in the skills of your surgeon, you will be more comfortable and be less nervous.
Don't Skip Consultation Sessions
When it comes to consultation sessions, don't skip on them. A consultation session is not only necessary to identify the kind of chin implant you need, it also helps to evaluate your eligibility and gives Dr. Kole a better understanding of your mind set and what kind of results you hope to achieve from your surgery.
Do Your Research
Once you've chosen the kind of chin implant you think and your surgeon will work for you, you need to do some research on your own too. Sure, Kole Plastic Surgery will know what you want and how to perform the procedure well but surgeons are not going to spoon feed but will give you guidelines of what you need to expect. Do some research, understand the procedure and anything you don't understand, discuss it in detail with Dr. Kole in advance.
Post Chin Implant Tips
One you've undergone your chin implant, here are a few post implant tips you should adhere to.
No Pressure on the Lower Jaw
Once you've gotten the procedure done, you have to avoid putting or exposing the lower jaw to any sort of pressure. While cold compresses are recommended in order to help with the swelling you might experience, it's better to use frozen peas that are easier use since they conform to the shape of the chin and you don't have to apply pressure.
Special Needs for Sleeping and Eating
When it comes to eating or sleeping, you will have to stick to liquids for the first day or two. For sleeping, it would be better to use a U- shaped pillow, for a few weeks or so, in order to avoid sleeping on your face and putting pressure on your face. Liquids are also better for eating as you may experience difficulty and soreness in chewing and opening your mouth for the first day.
Know Your Recovery Period
Recovery from plastic surgery should only take around a week or so. This is when you can start going back to work. Swelling and other side effects like pain should decrease rapidly and be back to normal by 2 to 3 weeks and you will start to see the results within a month once more definition is apparent from the decrease in swelling.
If you're looking to get a chin implant, call us now at 215-315-7655 or fill out our form online to get a complimentary consultation session with Kole Plastic Surgery of The Kole Plastic Surgery Center Center. The office and private licensed ambulatory surgical center is located at [primary_address] Southampton, PA, [primary_state] [primary_postal]