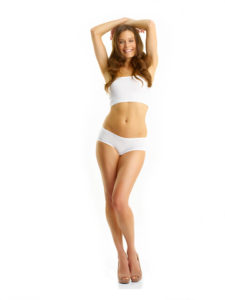 While becoming a mother and having children is a beautiful blessing, the after effects of pregnancy may not be. Many women find themselves unhappy with the side effects of housing a growing baby; sagging breasts, extra tummy skin, and hard-to-lose fat. Fortunately, there are a few beauty-enhancing options mothers have to choose from to get back to their pre-pregnancy bodies.
The Mini and Full Tummy Tuck for Women
The womb stretches substantially during pregnancy. For new mothers, this may mean excess, loose skin. Fortunately, a tummy tuck may be the solution to gaining back your long-lost bikini body. There are two different tummy tuck procedures to choose from; mini and full tummy tucks. The mini tummy tuck includes tightening the muscles around the lower abdomen and then stretching the skin into place to produce a flat, even stomach. For those who have a larger troublesome area than just below the belly button, a full tummy tuck procedure can be performed. In a full tummy tuck, all of the abdomen muscles and skin from below the breast to the pubic area are tightened and stretched. The end result of both procedures is the elimination of unwanted stretch marks, loose skin, and poor skin tone.
The Ultimate Solution: The Mommy Makeover
If your stomach isn't the only thing that has been affected by pregnancy, the mommy makeover is a great solution. A mommy makeover is when a woman undergoes multiple procedures at once to reduce recovery time and get multiple results. During a mommy makeover, it's common for a mastopexy (breast lift) to be conducted to lift up sagging breasts which is a common side effect of pregnancy. Additionally, a tummy tuck procedure can then be done to reduce excess skin and tone the stomach. Finally, if desired, liposuction can be performed around the hips, buttocks, and abdomen to reduce fat cells and provide a smoother, youthful appearance.
Ready for Your New After-Pregnancy Body?
Are you done having children and want to get back to your pre-pregnancy body goals? Here at Kole Plastic Surgery Center Center, Dr. Kole at Kole Plastic Surgery can help. For a complimentary consultation about your tummy tuck or mommy makeover, contact us today.