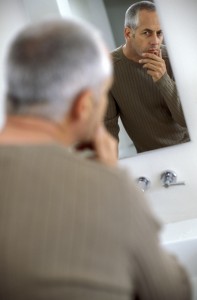 A successful way to reverse unwanted signs from stress, aging and sun exposure is to undergo a male facelift. Because men have experienced accelerated facial aging during different times in their adult lives, there is not one perfect time to begin contemplating a male facelift. If you are overly or even mildly concerned about enhancing your signs of facial aging then enhancement may be for you. If you want to look and feel better, you don't have to be a specific age. Most male facelift patients range from ages 45—65 years old. The optimal results with a facelift are usually seen on patients who start with more skin elasticity. Dr. Kole believes that men who have some facial and neck sagging with a good amount of elasticity in their skin make for the best candidates. You may be a good candidate for a facelift if you have any of the following:
Sagging skin around the neck
Extra fat and wrinkles around the neck
Reduced jawline in comparison to that of the past
Loose skin around the cheeks
Jowls
Aging folds from your nose corners to your mouth edges
Newly defined creases from your nose edges to your mouth corners
Based on how extensive your surgery is and your skin type the average male facelift surgery lasts approximately 3 hours. General anesthesia is used and administered through an IV tube while you are connected to monitors that track vital signs plus oxygen levels at all times. Once released from the recovery room you will need an adult to drive you home. You should expect 2-3 weeks of recovery following surgery. The most common side effects are bruising and swelling. Pain is based on an individual threshold and medication does help manage different levels. Some facelift patients have tingling, tightness and numbness across their faces for many weeks but this usually resolves spontaneously.
There are different facial enhancement procedures that are often performed in conjunction with a facelift. They will be discussed if it is believed you will benefit from them. Sometimes male patients have a Neck Lift either with or without Liposuction while having a facelift. This involves a minimal incision just below the chin and tightening of the muscles that are underneath. When a facelift is performed, it doesn't usually address the improvement of the eyes and some patients choose to have their lids corrected, called Blepharoplasty, with or without work done on their eyebrows, as well. A Brow Lift always places the brow in a position the brow sat at a much younger age.
Concerns that men almost always have surround the amount of time they will need away from work, which is usually no more than two weeks. Strenuous exercise must be avoided for a month after surgery but walking is always encouraged. The other common one focuses on the need for another facelift in the future. Dr. Kole's best answer is that once you've had your male facelift, your face will always look refreshed, younger and healthier. No one can stop the aging process. Your face will continue to age and how it ages depends largely on lifestyle and genetics. Some patients might want corrective work, not until twelve or more years later, while others might be satisfied without having work done again.
Please contact The Kole Plastic Surgery Center at 215-315-7655 to schedule your complimentary consultation with Kole Plastic Surgery. Our Office and Licensed Ambulatory Surgical Center is conveniently located at: [primary_address] Southampton, PA, [primary_state] [primary_postal]