Centrally located in Southampton, PA and serving Philadelphia, Bucks, and Montgomery Counties, the Kole Plastic Surgery Center Center performs Voluma™ treatment for patients desiring skin rejuvenation.

What is Voluma™?
Voluma™ is an FDA-approved injectable gel that is made from a modified form of a natural complex sugar made
within our own bodies. This natural sugar complex is known as hyaluronic acid. When the gel is injected into the cheek area, it gently lifts the skin to replenish the volume that is lost during the aging process.
How is Voluma™ used?
Voluma™ is used to restore and replenish volume to all three areas of the cheek or mid face. Its uses are volumizing and recontouring the face and jawline. It instantly corrects damage from the aging process in patients 21 years of age and older. Treatments are performed by injecting Voluma™ gel to create a youthful curve and position to the check bone areas creating a natural look. By using tiny, blunt microcannulas along with traditional small needles, discomfort and bruising are minimal.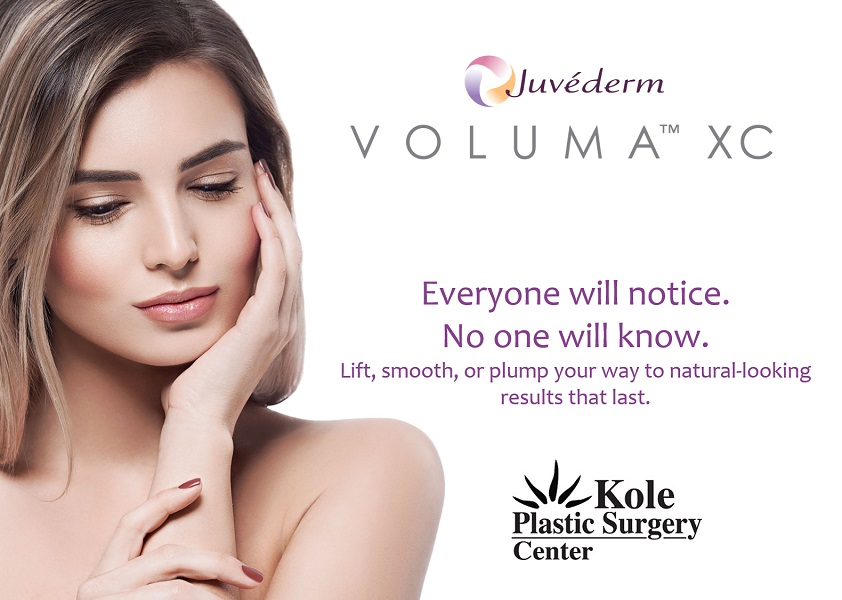 What makes Voluma™ different from other dermal fillers?
Voluma™ was created specifically to lift and fill the cheeks and mid-face. A new advanced technology called Vycross creates a soft gel that consistently flows smoothly allowing for easy shaping. This technology specializes in a lifting and filling technique that is one of a kind to Voluma™. This contributes to its endurable nature.
Why use Voluma™ instead of a wrinkle filler?
Wrinkle fillers have been commonly used as the backbone of filler treatments. They have offered excellent results when used properly. Voluma™ offers more rejuvenation opportunities. Its distinct properties have the ability to lift skin in and around the injected area. This may exclude the need to fill other lines and wrinkles in those surrounding areas or reduce the amount of filler needed. Using Voluma™ could prove cost effective in the amount of savings in your treatment plan. Reducing the need for more filler is a direct cost saving for the customer.
How young can you be treated?
Voluma™ has been FDA-approved for those who are over the age of 21. For those patients who are showing early signs of aging, a small of amount of Voluma™ can create a natural, soft look.
Will results vary depending on the age of the patient?
Yes. While there are benefits at any age, the results may vary. Younger men and women that have less skin laxity and who have prematurely lost fat volume in their cheeks may see a dramatic change restoring a younger looking appearance. As we age more changes occur throughout the body. Those changes increase with individuals who smoke, have significant sun damage to their skin or may have lost weight. Taking these factors into consideration more product may be required to give maximum anti-aging results. For those who have received fillers in the past, the results from Voluma™ may be more impressive with overall appearance and longevity. Patients of all ages have been pleased with the overall results.
Can all skin types be treated?
Yes. Voluma™ works well for any skin type. A darker skin tone usually means fewer wrinkles. Those with a lighter skin tone have an increased volume of wrinkles. It doesn't matter the skin tone, everyone will have wrinkles. Darker tone skin may also experience premature sagging of the apex check. The cheek apex gives a younger look to the face. Restoring this area to a natural, youthful look can improve appearance.
Voluma™ Before and After Results!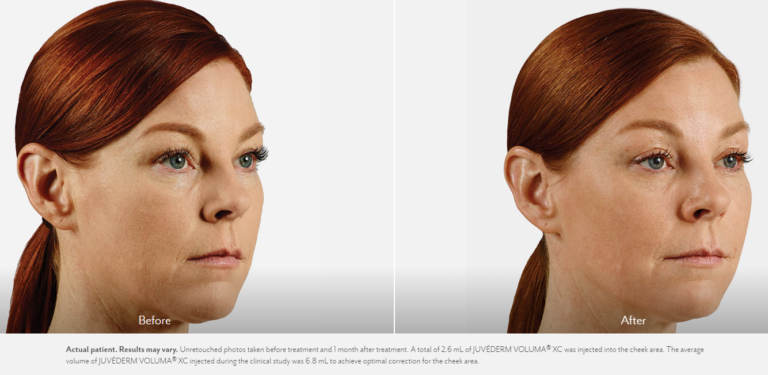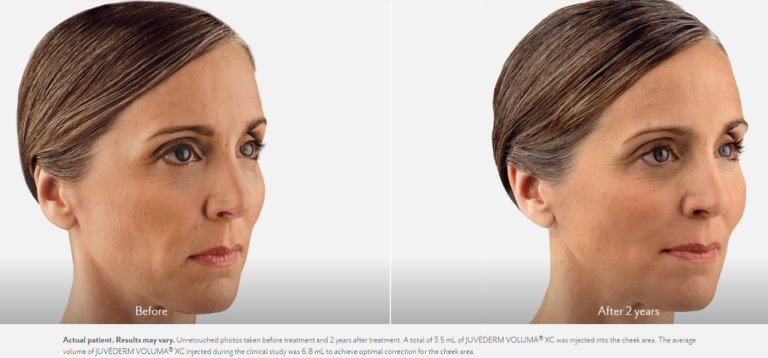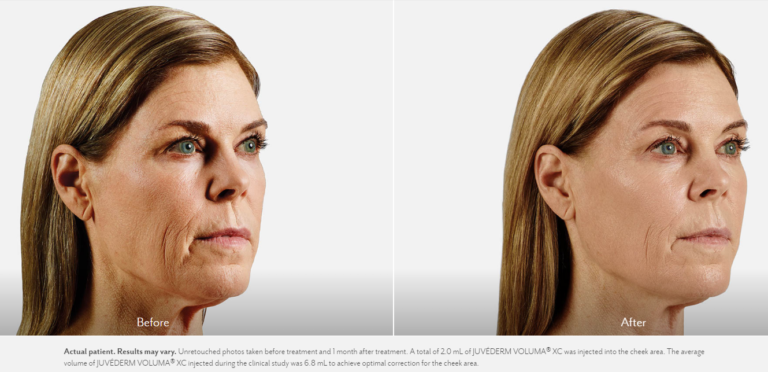 *images courtesy of juvederm.com
Can men be treated?
Yes, but the technique may be somewhat different especially for cheeks. What is needed to create a younger looking male appearance differs greatly from what is needed for females.
How long does treatment take?
The time required will depend on the area being treated, the amount of Voluma™ being used and the intricacy of the treatment. Less complicated injections may only take 15 to 20 minutes, but a more complex treatment will take considerably longer.
What are microcannulas and how do they work?
Microcannulas are long, tiny slightly flexible 'needle-like' devices. They are blunt at the tip with a hole in the side where the filler is held. These tiny sharp needles are inserted into the skin and then removed to enable the cannula to be inserted. The cannula is blunt and cannot penetrate the skin by itself. Larger areas of the cheek can be injected and sculpted by utilizing one tiny needle area. Pain and discomfort are minimized by using fewer injections. Bruising is reduced as well.
Can you combine Voluma™ with other facial anti-aging treatments?
Absolutely! Voluma™ works well with other anti-aging treatments. Voluma™ restores volume and can lift sagging skin. If skin has extensive sun damage and is thinning from lost collagen then a fractional laser or IPL® treatment may be useful. If spider veins are noticeable on your face, a blood vessel laser treatment may be helpful. Facial expressions create lines. These lines will often respond well to Botox® but adding Voluma™ enhances results from the combination. Eyes are important as well and sometimes a bit of a 'lift' can be achieved by either Botox® or Juvederm®.
When can I return to work and resume my social life?
In most cases, results are immediate and are very natural looking. You may possibly return to work and social activities right away.
How often can I be injected?
Voluma™ is a long-lasting filler. Typically, you would not need treatment again for up to two years or more. However, within a few weeks after your initial treatment, you may decide you would like more volume or lift. A touch-up is certainly warranted in this case. The goal is not to over-inject or overfill particularly in cheeks and lips. Maintaining a natural, soft rested look is what we strive for. Voluma™ does not necessitate as much filler as other hyaluronic acid fillers.
What Is the Cost of Voluma™ in Philadelphia and Bucks County?
The cost Voluma™ varies depending on the extent of treatment necessary to achieve optimum results.
The Kole Plastic Surgery Center Center accepts cash, check, and credit card (MasterCard®, Visa®, American Express®, Discover®) as acceptable forms of payment.
Financing is also available through CareCredit®, United Medical Credit, and Advanced Care.
For other Frequently Asked Questions regarding Voluma™ visit our FAQ page
Contact Us Today for a Consultation
The middle third of your face plays an important role in your overall appearance. The primary features of the area are your cheeks. Having hollow or poorly defined cheeks affects facial balance, so Kole Plastic Surgery may recommend Juvéderm® Voluma™. As a board certified plastic surgeon, Dr. Kole uses Juvéderm® Voluma™ to give men and women in Southampton, PA, Philadelphia County, Bucks County, Montgomery County and surrounding areas of Bucks County, PA, defined cheeks that improve facial harmony. To learn more about Juvéderm® Voluma™, contact us to schedule a personal consultation.