Centrally located in Southampton, PA and serving Philadelphia, Bucks, and Montgomery Counties, the Kole Plastic Surgery Center Center performs Kybella™ treatment for patients seeking a non-surgical way to eliminate their double chin.
What is Kybella™? How does it work?
Kybella™ mimics a chemical found naturally in your body known as deoxycholic acid, which is important for helping you absorb fat. This substance works by killing fat cells at the injection site, providing a fast, minimally invasive alternative to liposuction for the treatment of excess fat around the chin.
Prior to its approval by the FDA, Kybella™ underwent two American clinical trials involving over 1,000 participants. Over 80 percent of the Kybella™ recipients reported a noticeable reduction in fat beneath their chin.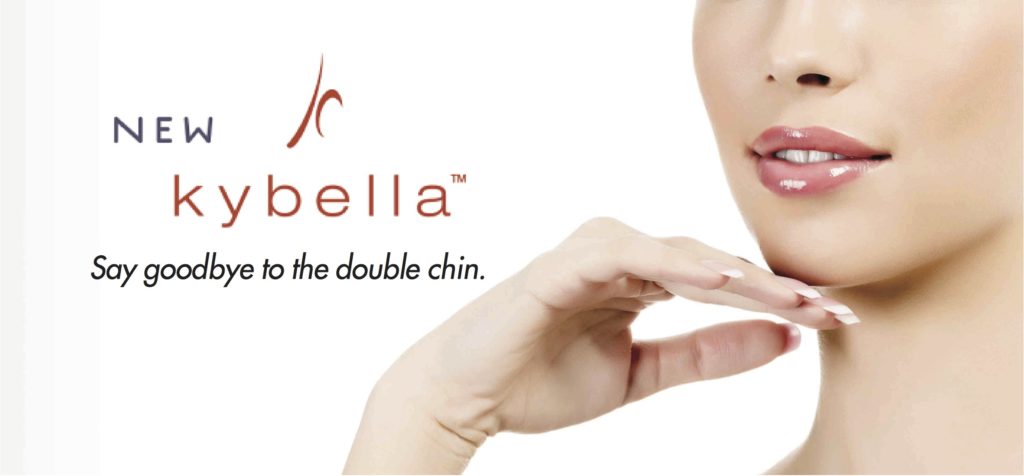 Why choose Kybella™?
According to surveys, roughly eight out of ten people with a double chin feel self-conscious about it. What's more, this excess of fat in the chin and neck area often responds poorly to diet and exercise, and it tends to become more noticeable with age. Many people who endure a double chin are put off by the invasiveness and downtime associated with liposuction. However, with Kybella™, these individuals have a more appealing option available.
How many treatments are required? What should I expect?
The number of injections needed depends on each patient's unique case. Dr. Kole believes that between 12 and 20 injections may be needed during an average visit. Most patients are expected to require between two and three visits, each a month apart, to achieve their desired results. In patients who have a severe double chin, as many as 50 injections may be needed, and individual treatments are scheduled only a few weeks apart. The average length of each treatment is around 15 minutes, and most participants in the clinical studies for Kybella™ noticed results after only a few treatments.
Kybella™ isn't approved for sagging skin, but will it still help?
Unfortunately, Kybella™ is unlikely to address sagging skin. It's sole intended function is melting fat. However, some of the clinical study participants did report that they experienced a slight tightening effect.
Can Kybella™ melt fat from other parts of the body?
Currently, Kybella™ is only approved for the removal of excess chin fat. Experts don't expect that it will be useful for other issues such as arm flab or love handles. There is some evidence that Kybella™ might help address tiny pockets of fat, such as lipomas or under-eye bags, but there are significant safety risks involved. Experts say that more research is needed to determine whether the new drug will be suitable for use in these areas.
Kybella™ Results




How much will Kybella™ cost? Will my health insurance cover it?
No official pricing will be made available until the release of Kybella in June. However, it's expected that the drug will be priced similarly to existing dermal fillers. Even if pricing were available, the ultimate cost of Kybella™ depends on how much each patient needs and how many treatments. How much treatment will cost for you can only be determined after a consultation with Dr. Kole. Unfortunately, since Kybella™ is considered to be a cosmetic procedure, it's highly unlikely that health insurance providers will offer coverage.
The Kole Plastic Surgery Center Center accepts cash, check, and credit card (MasterCard®, Visa®, American Express®, Discover®) as acceptable forms of payment.
Financing is also available through CareCredit®, United Medical Credit, and Advanced Care.
Contact Us Today for a Consultation
Are you considering liposuction for your double chin? Now you have an alternative, thanks to Kybella™ treatments by board certified plastic surgeon, Kole Plastic Surgery. He helps men and women like you in Southampton, PA, Philadelphia County, Bucks County, Montgomery County and surrounding areas of Bucks County, PA, who want to remove excess fat under the chin and along the jawline. To learn more about Kybella™, contact us to schedule a personal consultation.