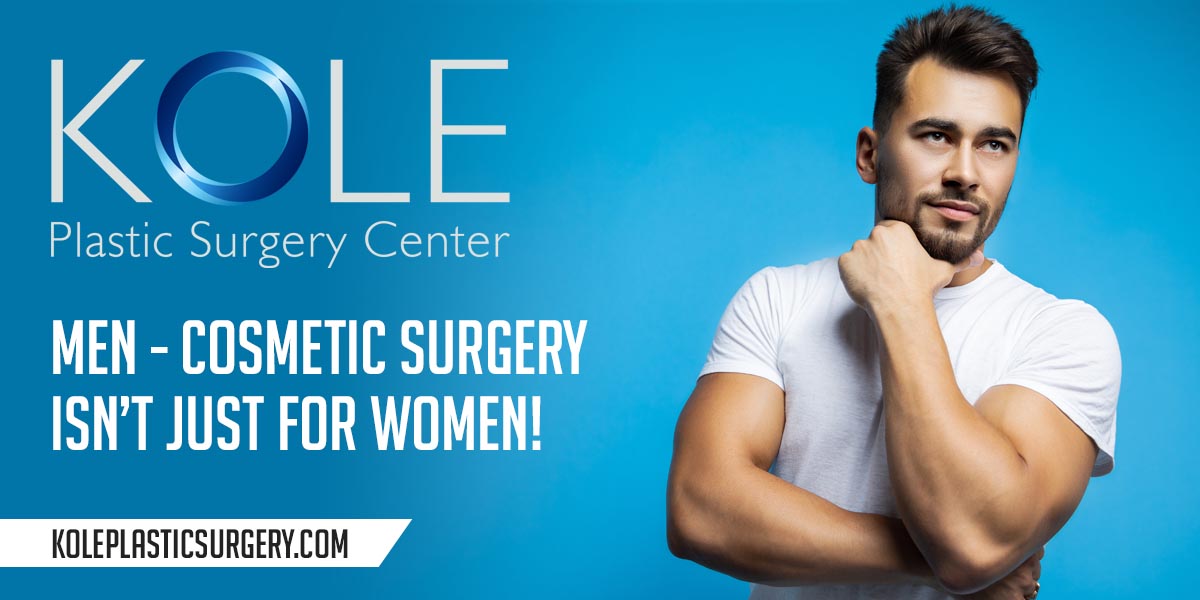 Much has changed in the world of plastic surgery over the past couple of decades. Beyond advances in techniques and technology for cosmetic procedures, one of the biggest changes has been the growing acceptance of men having cosmetic work done.
At The Kole Plastic Surgery Center, our board-certified plastic surgeon, Dr. Edward S. Kole, has done countless procedures for men and women in Bucks Country, Pennsylvania and surrounding areas. Our center is a Pennsylvania State Licensed Ambulatory Surgical Center and completely private facility that is dedicated to surgical and non-surgical cosmetic procedures.
The Most Popular Plastic Surgeries for Men
As a plastic surgeon with over 20 years of experience in this field, I have helped innumerable men in the Bucks County, Pennsylvania area look and feel their best. Whether your wife has had a cosmetic procedure and you're simply trying to keep up with her or if you're trying to look your best to get back on the dating scene, I can help you achieve your goals.
The following procedures are some of the more popular ones at our center.
Eyelid Rejuvenation – Sagging eyelids can quickly betray your age. Also, unlike a little extra belly fat, you can't always cover up or hide your eyes from the world. I can restore a more youthful and rested appearance to your eyes by addressing wrinkled or drooping skin on your upper or lower eyelids.
Neck Lift – Having a double chin can be an unfortunate effect of weight gain. Even if you've lost the weight, sagging skin may linger behind in this area that I can quickly remedy with a surgical neck lift or liposuction or non-surgical procedures like Kybella or CoolSculpting.
Rhinoplasty – A "nose job" as this is more routinely called is a popular procedure for men. You may be unhappy with the size or shape of your nose and its proportionality to the rest of your face. During your consultation, I will listen to what you want to accomplish and give you my expert opinion on how best to achieve your goals within your budget.
Liposuction – This is a very popular procedure for men and women. Just as women who have gone through childbirth may need a "mommy makeover" to restore a more youthful body appearance, men may need to address their "dad bod." While having kids, obviously, does not take the same physical toll on a man as it does a woman, you may find that the combination of being a parent and aging has allowed extra pounds to creep up on you over the years.
Chin Augmentation – This may be needed on its own, or it can be combined with a rhinoplasty to create a more overall balanced look for your face.
Gynecomastia – This procedure resolves the dreaded problem of "man boobs." Weight gain can deposit fat around the male breast, and sometimes, diet and exercise are not enough to deal with it. I have expertise in addressing excess fat and tissue in this area to reduce sagging breasts.
Get Your Consultation Today!
Please call the Kole Plastic Surgery Center at 215-315-7655. I will meet with you and discuss your goals and budget and recommend the cosmetic-procedure or combination of them that will restore your appearance and confidence.