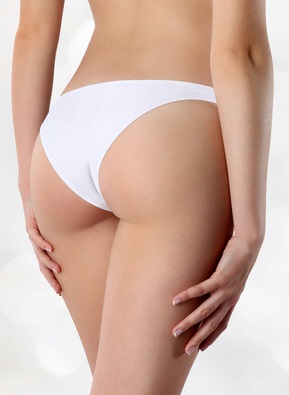 The buttocks are an important part of your overall body proportions. If you have a flat derriere, people may consider you less attractive compared to someone who has a fuller backside. Buttock shape and size is also associated with having a healthy, active lifestyle. Women also face unique challenges in trying to find clothing that fits properly and accentuates their other physical features. With so much riding on buttock shape, many men and women choose to have Brazilian butt lifts, also known as butt augmentation. According to the American Society of Plastic Surgeons, more than 14,000 Brazilian butt lifts were performed in the United States last year.
When compared to butt implants, the Brazilian butt lift has many advantages, such as:
Less invasive
Precise contouring
Utilization of patient's body fat versus synthetic implants
More natural feel and appearance
Points to Consider Before Getting a Brazilian Butt Lift
A Brazilian butt lift works by using your own fat to enhance the size and shape of your buttocks. Butt implants are solid silicone devices that are similar to breast implants but with a denser silicone. Dr. Kole recommends a Brazilian butt lift for men and women who want to enhance the natural contours of their buttocks. Implants are more appropriate for patients who want rounder, fuller buttocks. Dr. Kole may recommend implants if you have too little fat for harvesting or if your buttocks are severely flat and sagging.
Like the breasts, many patients believe that bigger is better when it comes to their buttocks. Dr. Kole will recommend the level of enhancement that improves your overall body proportions while maintaining a full natural appearance. Some patients, though, want a greatly enhanced backside, and Dr. Kole offers professional guidance on the advantages and disadvantages of making a significant change in buttock size. Ultimately, though, the patient makes a personal choice about the extent of the procedure.
The results of your butt lift, whether performed with fat transfers or implants, will last for a very long time, so you should be absolutely sure that you are happy with the expected results. Dr. Kole may recommend that you wear temporary padding to live with your desired buttock shape and size before committing to a Brazilian butt lift or butt implants.
Achieving Excellent Results with Butt Augmentation
Achieving excellent results from your Brazilian butt lift depends on many factors, and the following guidelines will help you determine if a Brazilian butt lift is right for you as well as understanding why Dr. Kole is the right plastic surgeon for the procedure.
Only use a board-certified plastic surgeon. As a minimally-invasive procedure, a Brazilian butt lift is fairly straightforward when compared to more extensive plastic surgeries, but you should be diligent in choosing the plastic surgeon for your procedure. This body contouring surgery must be performed properly to prevent infections and maintain a natural and symmetrical shape to your buttocks. You also want to feel comfortable and confident with the doctor. Board certification demonstrates a commitment to providing high-quality care, and Dr. Kole is well-respected for his ability to develop trusting relationships with his patients.
Schedule a consultation. A consultation appointment allows you to meet with your plastic surgeon, learn about Brazilian butt lifts and gain insight into the results that can be achieved with the procedure based on your individual anatomy. During the consultation, ask the following questions:
Are you board-certified in plastic surgery?
How many Brazilian butt lifts have you performed in the last 12 months?
How will you perform my procedure?
How long will the procedure take?
What can I expect after the Brazilian butt lift procedure, including the recovery period?
How likely is it that I will need a revision procedure in the future?
If you are considering a Brazilian butt lift or wonder how the procedure will change your appearance, Dr. Kole of Kole Plastic Surgery Center Center is ready to meet with you to discuss your options.