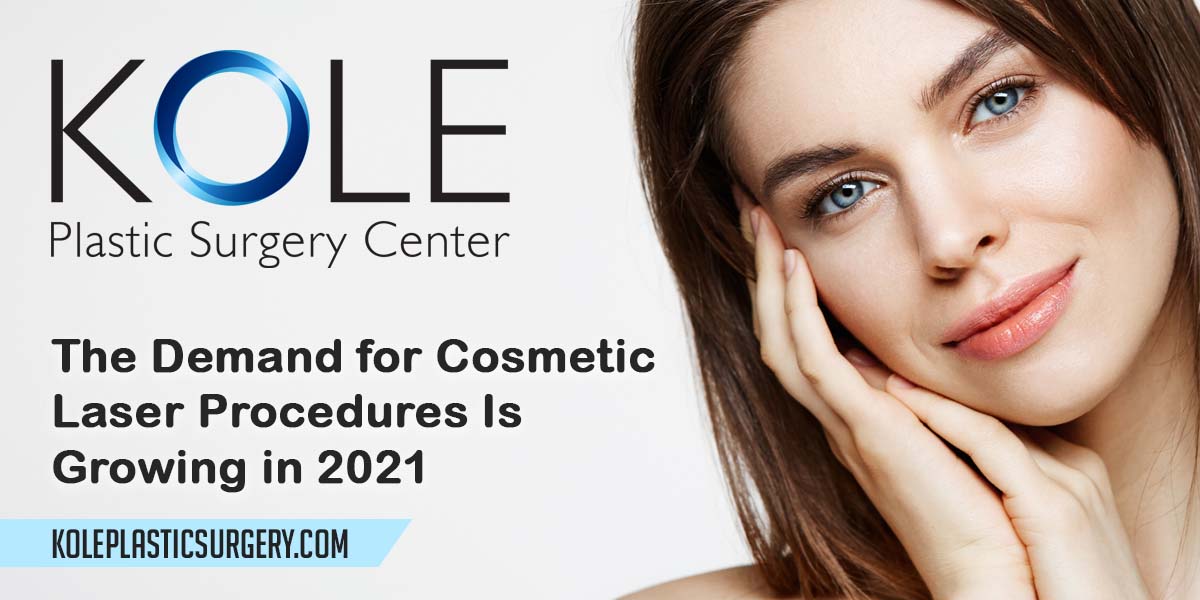 Cosmetic laser procedures have seen increasing popularity over the last 10 years, and this trend shows little sign of reversing any time soon. In fact, in 2015, laser treatments accounted for over $6.5 billion in the cosmetic surgery industry.
This number is expected to be several billion dollars higher in 2021 and beyond.
At The Kole Plastic Surgery Center, we have firsthand knowledge and experience with how popular laser treatments are. We offer some of the most advanced laser skin rejuvenation procedures available on the market today.
There are many reasons for the popularity of this type of treatment.
Common Skin Problems Can Be Handled With Laser Procedures
Within the practices of plastic and cosmetic surgery, there is frequently a particular type of procedure that's the best for achieving a specific result that the patient wants. If someone has too much belly fat, for example, liposuction is the traditionally recommended action to take. In the case of laser skin treatments, they are highly recommended for a variety of skin-related issues.
Perhaps the most widely advertised benefit of laser skin rejuvenation is the reduction of wrinkles, fine lines, and creases. When you think of aging, wrinkles are typically the first thing that comes to mind. Reducing or eliminating age spots is another way this treatment can turn back the clock. It also allows you to reduce acne scars and get rid of any tattoos that you feel you've outgrown.
Laser Gives High-Quality Results With Less Downtime
For the types of issues laser treatments deal with, it delivers excellent results. That said, the best part for many patients is how minimally invasive the procedure is. Having it done doesn't take much time at all, and there's little, if any, downtime afterward. In our hectic world where people are worried about the downtime from more major cosmetic procedures, this is a tremendous selling point for laser.
It Attracts Men and Women of All Ages
Perhaps because of all the above benefits, advanced laser skin rejuvenation is not gender-specific and is popular among both men and women of a wide age range. Younger patients use it for preventative care to keep their skin looking as good as possible.
Older patients prefer it over riskier invasive procedures, and they have a higher probability of needing the rejuvenating effects of the treatment. Once viewed as an exclusive desire of women, cosmetic procedures are increasingly gaining acceptance among men who are taking advantage of these procedures in ever-increasing numbers. The time savings of such non-invasive procedures make it easy for even the busiest men or women to receive the benefits of such treatments.
In Bucks County and the Philadelphia Area? We Offer Advanced Laser Treatment.
At The Kole Plastic Surgery Center, all of our cosmetic procedures are performed by Dr. Edward S. Kole. He is board-certified in plastic surgery and has been in private practice since 1998. Dr. Kole believes that an informed patient makes the best decisions, so he'll talk with you to discover your goals, and then he'll share his experience in how to reach them as quickly and economically as possible.
If you believe you can benefit from advanced laser skin rejuvenation or other non-invasive cosmetic procedures, please contact us at your earliest convenience at (215) 354-1010 to schedule your complimentary consultation. Financing options are available for those who need assistance with their procedures.