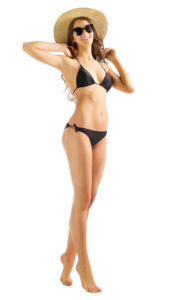 Being able to create human life is a miracle. However, the body mothers are left with post-giving birth may not seem so miraculous. While some mothers can jump back into a bikini minutes after giving birth, some mothers aren't so lucky. If you're struggling with a sagging stomach after giving birth to a child, you're not alone. And, there is an option to give you back you pre-pregnancy tummy… a tummy tuck.
What is a Tummy Tuck?
A tummy tuck, or abdominoplasty, is a surgery that involves removing excess skin located around the stomach. Additionally, it involves tightening the abdominal muscles to reveal a firmer, tighter abdomen. To provide different results for different issues, there are two options for tummy tucks including:
Mini Tummy Tuck: This procedure includes making an incision by the pubic area where the skin is pulled up to the belly button. The bottom section of the abdomen and the muscles are tightened and smoothed.
Full Tummy Tuck: With this surgery, the incision is a bit larger, going from the pubic area out to the hips. The incision needs to be made larger because the skin is pulled up over the belly button, up to the rib cage. This is done by cutting the belly button from the skin but allowing it to remain attached to the body. Making this incision allows for the entire abdomen to be pulled tighter, rather than just the lower portion.
What's the Difference Between Tummy Tucks and Liposuction?
If you're a mom struggling with excess tummy skin or fat, you may be wondering what your better option is between liposuction and a tummy tuck. Well, that really depends on how you qualify as a candidate for either surgery and your desired outcome. Essentially, liposuction procedures are meant to address excess fatty tissues around the stomach, thighs, neck, and arms. On the other hand, tummy tucks are meant to address sagging skin around the abdomen due to pregnancy or weight loss. So, if you are only being affected by the sagging skin, you may want to just consider the tummy tuck. However, if you are dealing with both sagging skin and excess fat deposits, you can consider liposuction along with a tummy tuck as they can be combined procedures!
Looking for a Tummy Tuck Doctor in Your Area?
Ready to get rid of that post-pregnancy belly and prepare for summer spent in your bikini? If so, schedule a consultation to meet with Dr. Kole and discuss your tummy tuck or other enhancing options available.