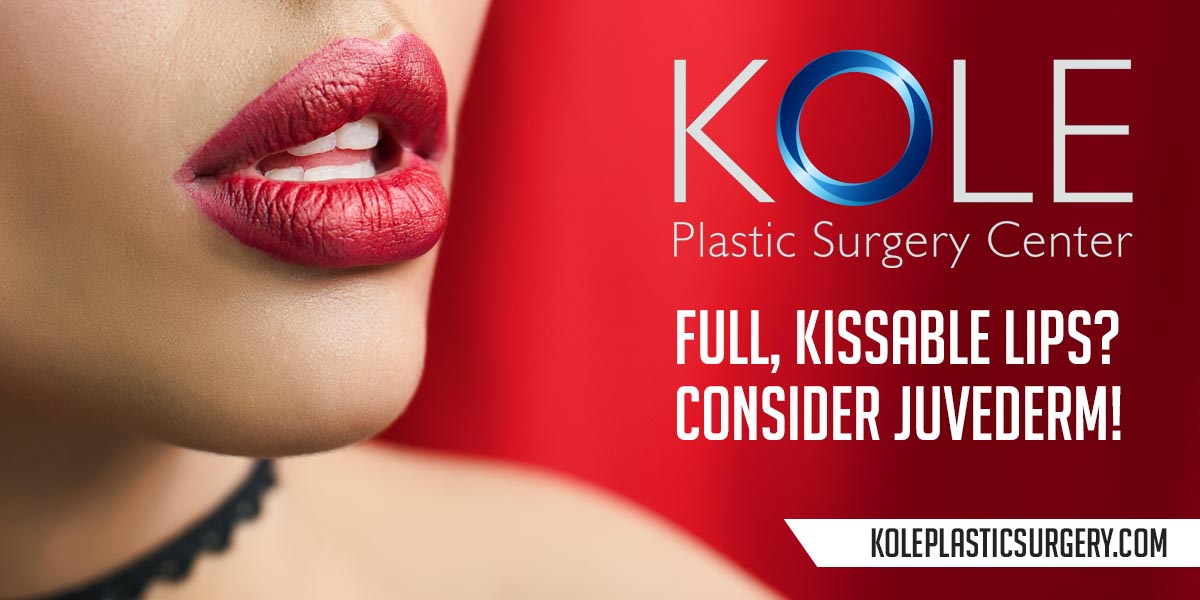 When you look in the mirror, do you notice that you have thin, flat lips? If this is a concern for you, you should know that they don't have to be this way. Perhaps you had fuller lips at one point but age has taken its toll, or maybe they've always been this way. Thanks to injectable treatments full luscious lips are no longer only available to the young or to those who win the genetic lottery in life.
Try Juvéderm Lip Augmentation
At the Kole Plastic Surgery Center, full, kissable lips are a simple, non-surgical cosmetic procedure away from being a reality for you. Located in Bucks County, our experienced plastic surgeon, Dr. Edward S. Kole, can add fullness, symmetry and proper proportion to your lips to maintain a natural look while making them look better.
I accomplish this through the use of an injectable known as Juvéderm. It contains a substance known as hyaluronic acid. This is naturally produced in your body but is created in diminishing amounts as you age. It is known for its ability to hold moisture and is the reason that younger people have plumper skin and lips.
A Quick and Effective Procedure
A lip augmentation appointment at my plastic surgery center only takes about 10 minutes, but the results last for up to 12 months. It is combined with the painkiller lidocaine to make the injections as painless as possible. I also utilize my considerable knowledge and experience to further reduce any discomfort.
One way this is done is through the use of ultra-fine needles to inject the filler into your lips. I'll know exactly how much to inject and where in order to give your lips the desired appearance.
Because this is a non-surgical procedure, there is no recovery or downtime. It is also considerably cheaper than traditional surgical procedures. As an added benefit, you will start to see the results from the injections almost immediately.
Your Professional Cosmetic Solution
The Kole Plastic Surgery Center is located in Southampton, Pennsylvania, which is about 25 miles north of Philadelphia. We are a PA Department of Health licensed Surgical center that is completely private and exclusively dedicated to only cosmetic procedures. I am a board-certified plastic surgeon and have done innumerable surgical and non-surgical procedures over 20 years.
If you are not happy with the lips you see in the mirror, please call our center at your earliest convenience. I will consult with you and see what you are looking to achieve whether that entails fuller lips or any other work you might wish to have done.
Contact us today to schedule your free consultation, online or call 215-315-7655 and get closer to those kissable lips you've dreamed about.