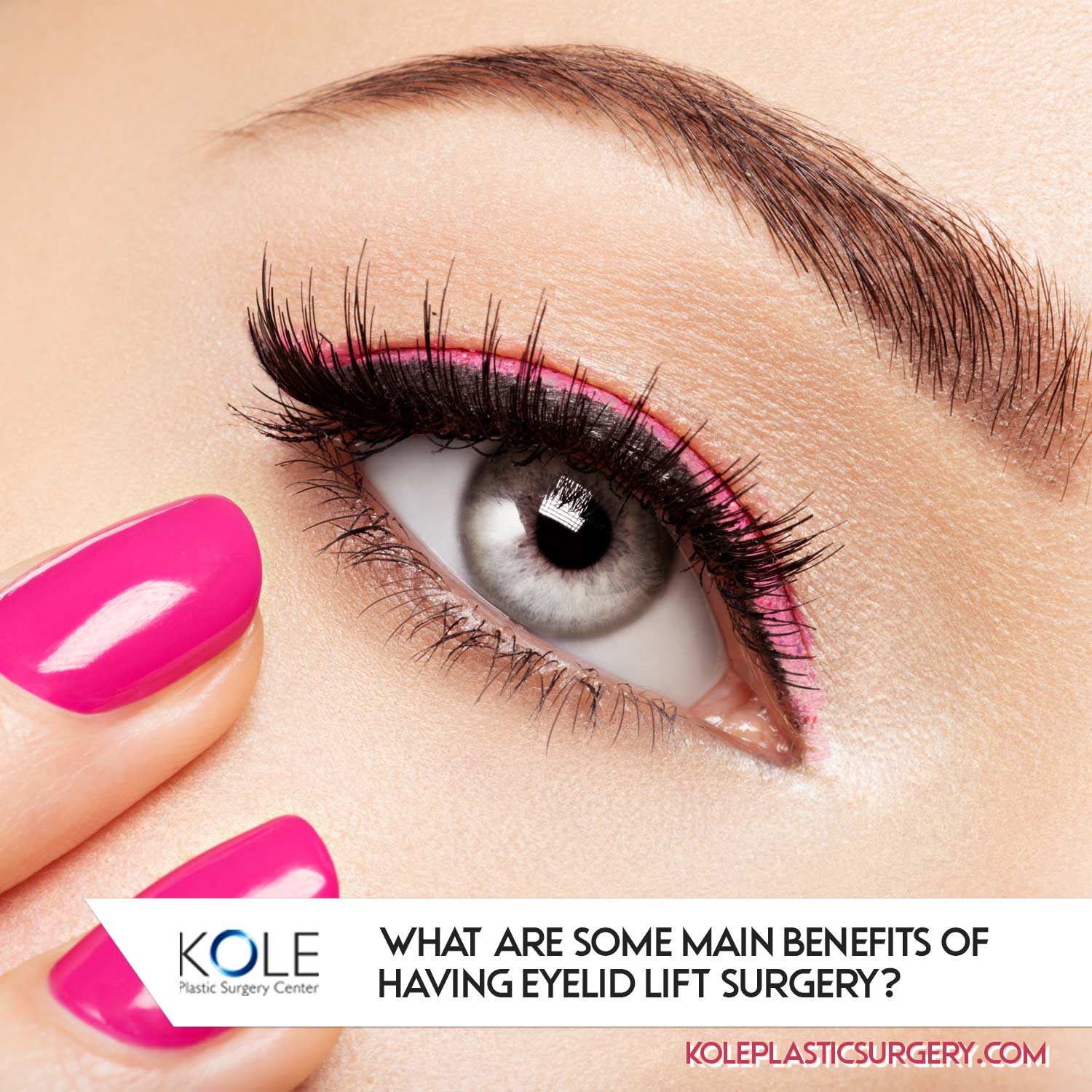 What Are Some Main Benefits of Having Eyelid Lift Surgery?
Eyelid lift surgery may have more benefits than you realize. The most obvious benefit, of course, is younger-looking eyes. But did you know minimizing puffiness and excess skin from around the eyes has actually improved some patient's eyesight? 
There are two types of eyelid lift surgery, lower eyelid lift and upper eyelid lift. Each type of surgery has its own benefits. Typically, targeting the lower eyelid helps reduce the look of fatigue by removing extra fat from below the eyes. Targeting the upper eyelid can correct the look of droopy eyes caused by aging by removing excess skin and tightening the muscles. 
Reclaim Your Youth with Eyelid Lift Surgery
Many people carry their age in their eyes. As the years pass, stress and lack of sleep can affect the skin around your eyes, oftentimes making you look older than you feel. Heavy, puffy eyelids are the root of the problem. 
Lower eyelid lift surgery will boost your confidence by adding life back to your eyes. Removing extra fat and skin from below the eyelid will rejuvenate your eyes back to their youthful, well-rested appearance. 
Eyelid Lift Surgery Can Improve Your Vision
As you age, drooping eyelids can start to affect your vision. For some people, drooping eyelids are majorly affecting their ability to see and they seek out eyelid lift surgery to fix this problem. For others, their improved vision after the surgery is just a pleasant surprise. 
Upper eyelid lift surgery involves removing excess skin that has lost it's elasticity. When this skin is removed, the eyelids no longer sag over the lash line obstructing your vision. 
Make Better First Impressions
It is no secret; your face is often how you make a first impression. A big part of making a good first impression, especially in job interviews and other professional settings, is through eye contact. Drooping eyelids can make it difficult to hold eye contact with people, having a negative impact on crucial first impressions. 
Additionally, heavy, puffy eyes often make you look sad or tired when you are actually engaged and excited. After eyelid lift surgery your eyes will have the same energy as you do, and everyone you meet will see it. 
Looking for Eyelid Lift Surgery in Bucks County?
Dr. Kole's Plastic Surgery Center will have you looking younger in no time with eyelid lift surgery in Bucks County, PA. During surgery, Dr. Kole will remove fat deposits from around the eyes which cause puffiness, or trim away loose skin that is causing the eyelids to droop.
 After surgery, you may experience some bruising and swelling in your face and eyelids. Within two to four weeks, everything should be back to normal and you can admire your final results. 
If you still have questions or concerns, you can schedule a complimentary consultation with Dr. Kole at his office at 215-315-7655 and learn if eyelid lift surgery is right for you.