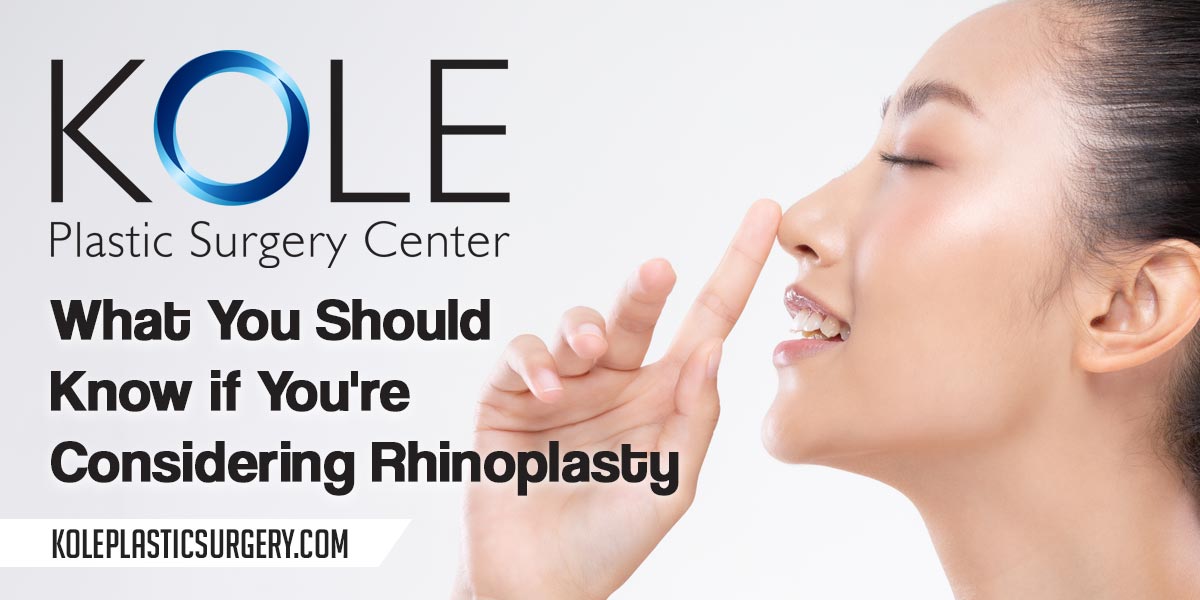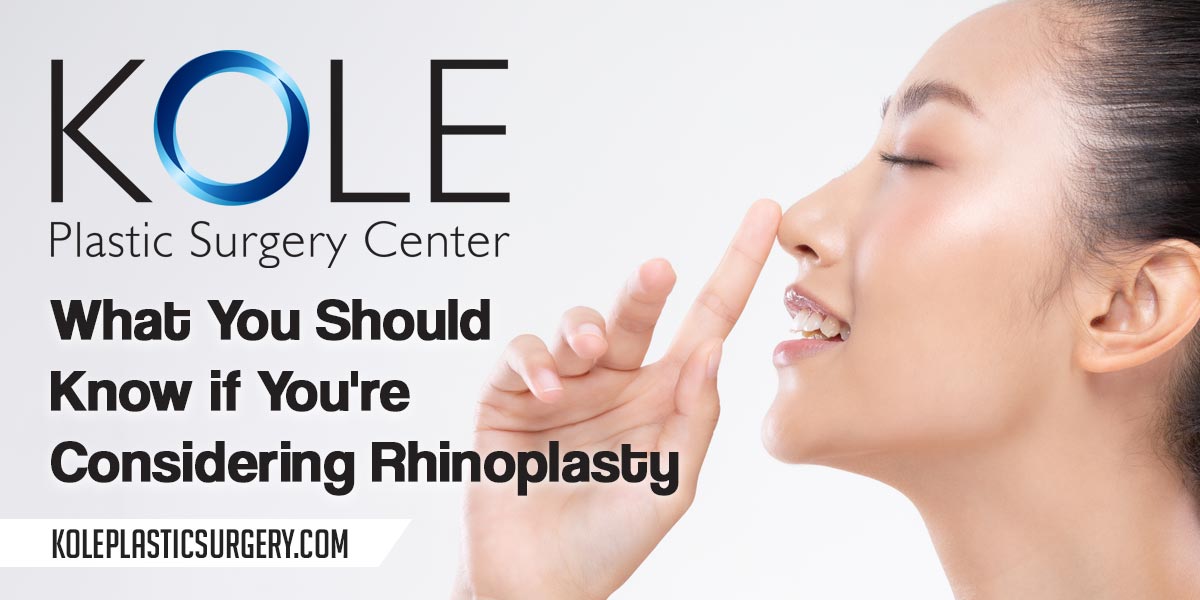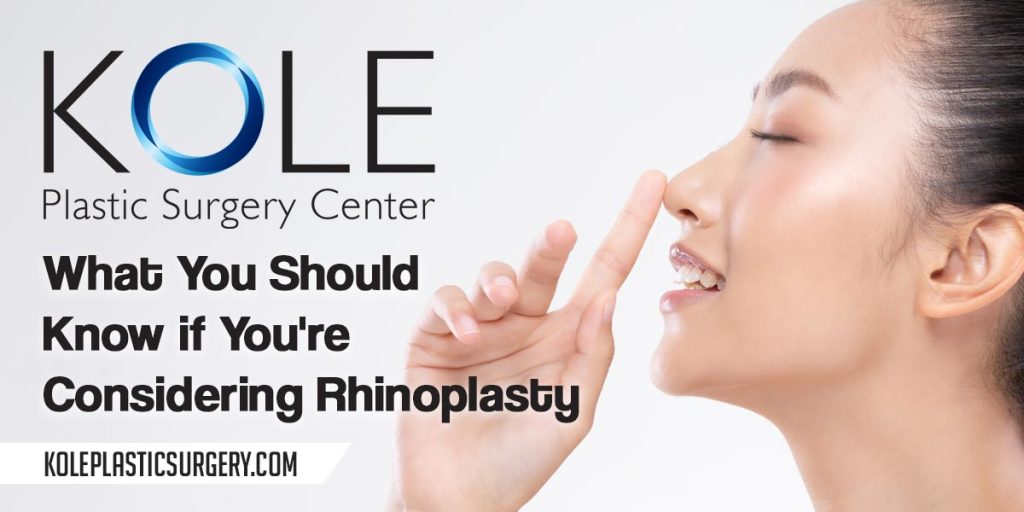 Nose jobs, also known as rhinoplasty, are continuing to gain popularity. In fact, one of Board Certified Plastic Surgeon Dr. Edward S. Kole's most frequently performed procedure is rhinoplasty for patients at The Kole Plastic Surgery in Bucks County 
There is a lot of research to be done and questions to be answered before scheduling an elective cosmetic surgery such as a nose job. It is important to gather as much information as you need to feel comfortable and confident in the procedure. 
Rhinoplasty is the Most Popular Cosmetic Surgery
For over two decades the American Society of Plastic Surgeons® has found that rhinoplasty is the most popular cosmetic surgery. The popularity in the procedure is thought to come from the notion that a person's face is their first impression. In most cases, your nose is the most prominent feature on your face. 
When a nose is disproportionate to the rest of the face, it can negatively affect your self-image and confidence. It is important to have a plastic surgeon who you trust and who cares, as Dr. Kole does, to discuss ahead of time and perform the procedure that will bring you the results you are hoping for.
Before Your Rhinoplasty
A lot goes into deciding whether a nose job is right for you. It is important to conduct your own research and consult with a plastic surgeon before committing to rhinoplasty. You want to find a surgeon who is board certified, like Dr. Kole at Kole Plastic Surgery Center in Bucks County, that you trust will listen to your expectations and operate accordingly. 
Consult with Dr. Edward S. Kole
Talk to your plastic surgeon to determine if you are a good candidate for a nose job. Dr. Kole will determine this status by looking at your medical history and expectations for the nose job. For example, the look that you are dreaming of may not be attainable with rhinoplasty. 
There are also risks involved with rhinoplasty, including trouble breathing through the nose, persistent swelling, numbness around the area, and more. Discuss the potential risks with Dr. Kole to decide whether rhinoplasty is truly something you want to move forward with.
Prepare for your procedure
Once you have decided to get the nose job, Dr. Kole will give you instructions to prepare for your procedure. Their suggestions may include things like adjusting your diet, running to the store to gather supplies, and recruiting a caretaker. 
Changing your diet can help better prepare your body for the side effects of getting a nose job. Your doctor may recommend eating more fibrous food to help you avoid anesthesia-induced constipation after the procedure. You can also fuel your body with specific supplements to help aid you in a quick recovery.
You will not want to be running out to the store the day after your rhinoplasty, so be sure and get all that you need ahead of time. Shop for common necessities like food and toilet paper along with some items more specific to your recovery like soft foods that will be easy to eat with a sore and swollen face, ice packs, and pain relievers. 
Don't forget to reach out to a friend or loved one and share the details of your rhinoplasty with them. You will need a ride home after your procedure, and it will be nice to have someone you know and trust to help you during the first few days of recovery.
Rhinoplasty Average Cost
According to the 2020 Plastic Surgery Statistics report, the average surgeon fee for a rhinoplasty is $5,483. This price does not include extra fees for the anesthesia, operating room, and any other additional expenses. A nose job in Bucks County typically costs around $3,500 to $9,500. Every client requires different amounts of anesthesia, medications, and supplies which results in a wide range of price points for nose jobs.
Anesthesia alone can cost anywhere from $900 to $1,500 depending on how long the procedure takes. Board certified plastic surgeons may have higher fees and rates, but it is absolutely worth it for the guaranteed quality of the work. 
Costs will also vary based on the complexity of the procedure. There are two types of rhinoplasty surgeries available: open rhinoplasty and closed rhinoplasty. Dr. Edward S. Kole will help you decide which surgery is right for you based on your goals and expectations of your surgery. 
Open rhinoplasty involves an incision in the soft tissue between the two nostrils known as the columella. This incision allows your surgeon to reach the underlying bone and cartilage structures with ease. A closed rhinoplasty only includes incisions inside the nostrils, which are completely hidden. This is a less invasive rhinoplasty option because no external incisions are required. 
What to Expect After a Nose Job
The first week after a nose job is the most intense part of recovery. Oftentimes, patients have packing and a splint on their nose for about a week after the procedure. You can also expect a good bit of swelling and bruising on the cheeks and under eyes. For some patients, it may take up to a year for their nose to fully heal and take its new shape. 
Dr. Kole gives his patients aftercare instructions for their nose job in Bucks County. The patients who listen to his rules and follow the suggestions are the ones with the quickest and most successful recovery.
Call Dr. Kole today at 215-315-7655 for a complimentary rhinoplasty consultation. Together, you can discuss what you are concerned about and expecting from your rhinoplasty in Bucks County. Sharing your vision with your plastic surgeon will bring you more confidence when booking your rhinoplasty.