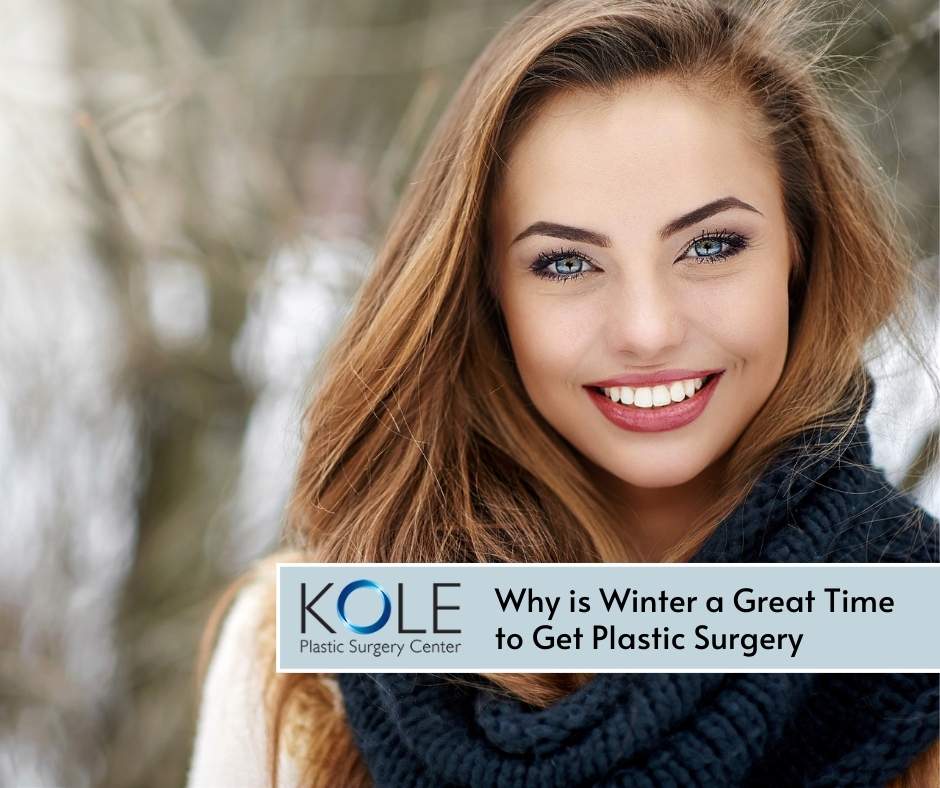 Timing is a crucial factor in planning cosmetic procedures. When considering what time of the year is best to get plastic surgery, your first thought may not be winter, but that's the time of year most recommend. Here are the top reasons why you should consider scheduling a procedure with Dr. Edward Kole at The Kole Plastic Surgery Center during the colder winter months.
Start the New Year off with a New Look
A new year is a chance for a fresh start, it is truly a time of transformation and renewal. If you've been considering plastic surgery, the beginning of the year is a great time to get your new look. Set the tone for your year by putting yourself first and getting the look or body you've always wanted at The Kole Plastic Surgery Center will give you the confidence you need to really shine this upcoming year.
Recovery from Plastic Surgery is Much Easier in the Winter
During the summer, you're more likely to be active outside. Plastic surgery procedures such as a tummy tuck or facelift, require you to avoid strenuous activities for up to eight weeks. Scheduling plastic surgery in winter will ensure you are ready to resume all strenuous activities by the time warmer weather arrives and you won't miss out on any summer fun.
You Have More Time to Recover from Your Procedure
The holiday season and the colder weather often make it easier to take time off work and other commitments to focus on your recovery. Additionally, cooler winter temperatures significantly help with the swelling and bruising associated with surgery. Heat can irritate swelling, while cool winter temperatures are best, especially for surgeries such as breast augmentation or reduction.
Get the Final Results You Want for Summer
Many women and men want to have plastic surgery to look their best for the summer. By scheduling your procedure during the winter months, you can give yourself lots of time to recover and see the full results of your surgery by the time summer rolls around. This can be particularly useful for procedures that may take longer to recover from such as breast augmentation, facelift surgery, or tummy tucks.
Hide Your Recovery with Winter Clothing
One of the main concerns people have about plastic surgery is how long it will take for the swelling and bruising to go down. During the winter months, you can easily conceal compression garments, and surgical bandages, and cover up any swelling or bruising with clothing, such as scarves, hats, and jackets. This can make it easier to feel more comfortable and confident during your recovery period. Compression garments also add another layer of warmth, which is more welcome in the winter than summer months.
Easier to Avoid Direct Sunlight in the Winter
Cosmetic procedures, such as rhinoplasty and eyelid surgery require you to avoid direct sunlight while recovering. Your skin is at its most vulnerable following a cosmetic procedure. Overexposure to the sun could extend your recovery time because direct sunlight makes resulting scars more prominent, direct sunlight can cause your scars to darken and may make hyperpigmentation permanent, as well as increase the risk of infection.
Take Advantage of Seasonal Discounts
Dr. Kole offers seasonal discounts during the winter. This can be a fantastic way to save money on your procedure and make it more affordable. Keep an eye out for promotions and discounts via email and on our social pages from The Kole Plastic Surgery Center to take advantage of any savings.
Plan Ahead, Contact Dr. Kole Today for a Consultation
When summer approaches, you will be beach body ready. Beat the rush, have greater scheduling flexibility and more recovery time when you have your plastic surgery in the winter.
When under the care of acclaimed board-certified Southampton, PA plastic surgeon Dr. Edward Kole, every procedure is performed to achieve extraordinary results. Among the thousands of American plastic surgeons, few are as expertly trained or thoroughly experienced as Dr Edward Kole. Board-certified by the American Board of Plastic Surgery and a member of the Aesthetic Society and American Society of Plastic Surgeons.
Dr. Kole is one of the best plastic surgeons in the United States. Dr. Kole has advanced medical training and a distinguished record of success in aesthetic medicine. Dr. Kole achieves exceptional results serving women and men in Southampton, PA, Philadelphia County, Bucks County, Montgomery County and surrounding areas of Bucks County, PA.
Learn about all body contouring options available at Kole Plastic Surgery Center. Contact us today at 215 354-1010  to schedule your personal consultation.