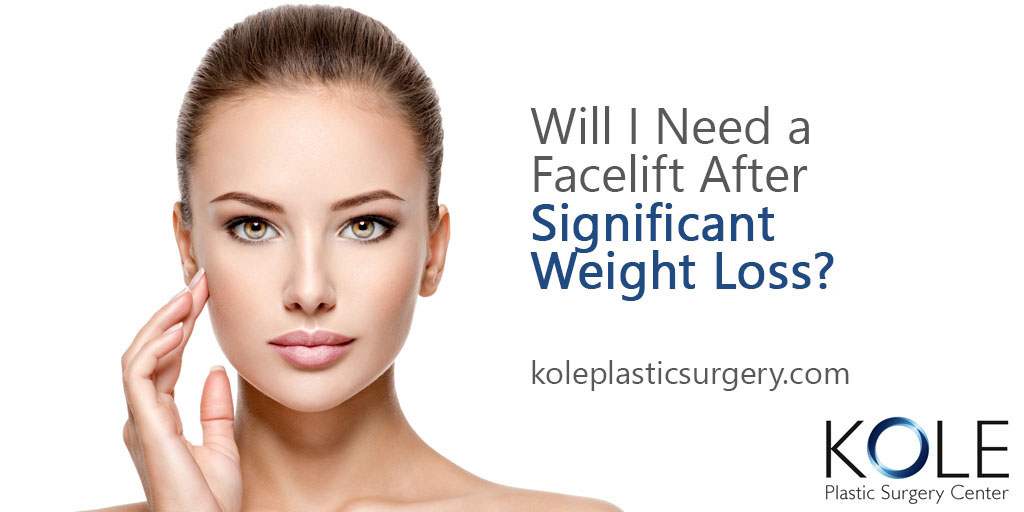 Why You May Need a Facelift After Considerable Weight Loss
Being overweight is not only stigmatized in our society but it actually makes you more prone to some chronic diseases. For these and other reasons, significant weight loss is a major accomplishment for anyone who has been fighting their own personal battle of the bulge.
Overall, you look and feel much better after achieving this goal, which can translate to higher self-esteem. That being said, rapid weight loss, such as that experienced after bariatric surgery, can bring unintended consequences with it.
How Weight Loss Affects Your Face
A quick loss of fat can result in sagging, excess skin left behind that used to be firmed up by the fat that's no longer beneath it. This is easy to cover with a shirt or pants when it occurs in your lower body, but your face is out there for all to see at all times. This can mean loose skin around your chin otherwise known as the dreaded "double chin." You may also get loose skin on your neck, saggy cheeks, jowls and very noticeable nasolabial folds.
Beyond problems with excess skin, a certain amount of fat in our faces is a characteristic of a youthful appearance. When too much is lost in the face, it can start to look thin and gaunt. This is why some people can actually look older in their face after a rapid weight loss.
A Skilled Plastic Surgeon to the Rescue
The answer to this problem is to find an experienced Plastic surgeon who has a track record of helping patients overcome these issues. If you are fortunate enough to live in the Philadelphia area, you have the option of going to The Kole Plastic Surgery Center in Bucks County, Pennsylvania. At our practice, all cosmetic procedures are carried out by board-certified plastic surgeon Dr. Edward S. Kole. Our clean and professional center has been operating since 2005 and is a completely private practice that specializes in plastic surgery.
During your consultation, Dr. Kole may recommend a facelift to restore a more youthful appearance. Typically, a facelift that follows rapid weight loss will focus more on lifting and removal of sagging skin and less on removing wrinkles unless this is an issue for you as well. We may also recommend facial fillers as part of the process to restore a more youthful appearance. If the fat loss has resulted in a sunken or gaunt appearance, our skilled use of injectable fillers can restore much-needed volume that is characteristic of a more youthful face.
Dr. Kole Can Complete Your Post-Weight Loss Appearance
Having lost a considerable amount of weight is an impressive accomplishment. If you're still not happy with the excess skin, sagging cheeks and other after-effects of that fat loss, please contact us at the Kole Plastic Surgery Center today at 215-354-1010.
We will talk to you to determine what results you need to complete the look that motivated you to get bariatric surgery or to lose the weight through diet and exercise in the first place. Dr. Edward Kole will then utilize his extensive experience to bring your goals to fruition.