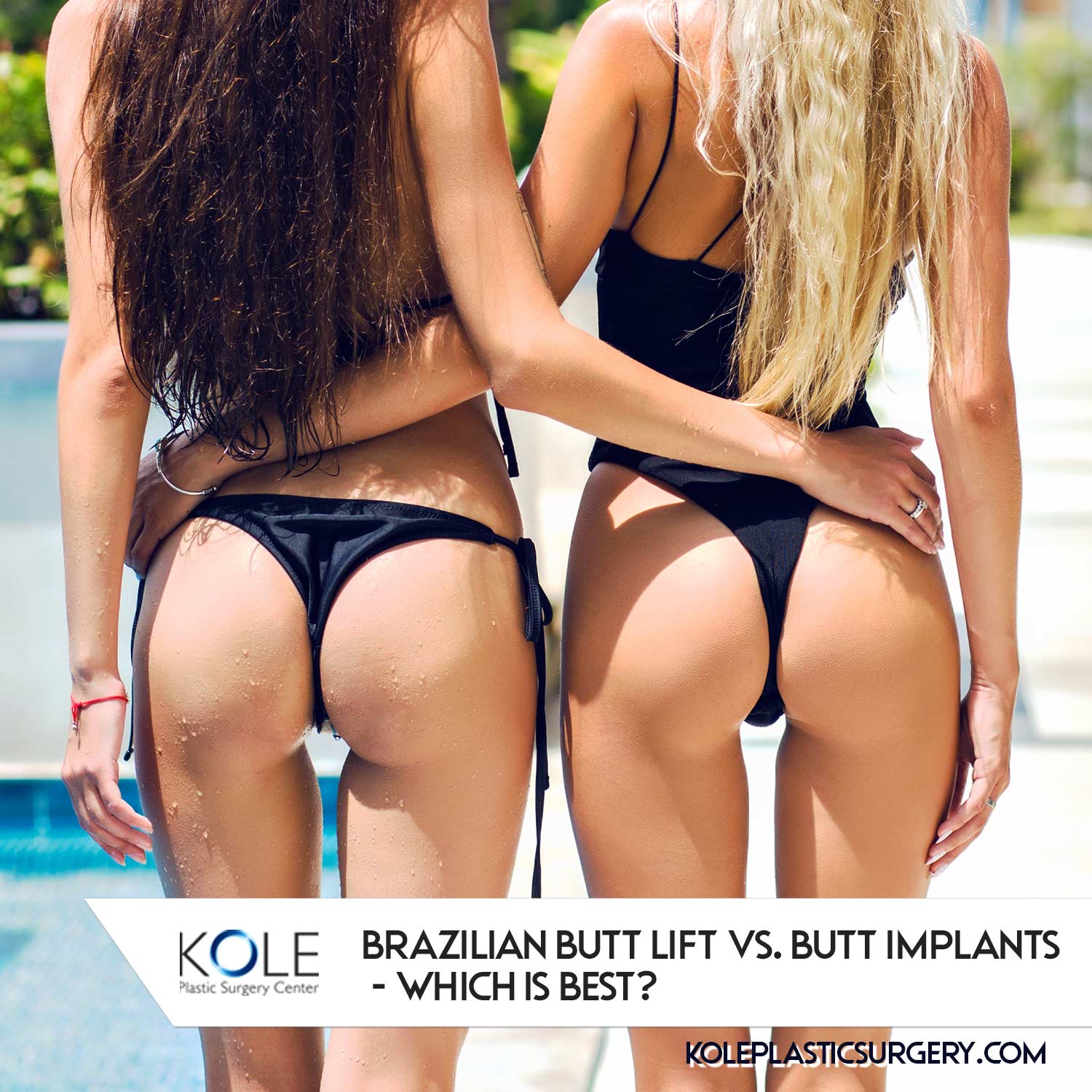 Brazilian Butt Lift vs. Butt Implants - Which is Best?
The meteoric rise of celebrity culture has changed many body perceptions and brought forth numerous fashion and life trends. One such popular trend is that of getting your butt back in shape and making it look full and voluptuous. Women typically look to get that done through cosmetic surgery; the problem though is that there is not just one but two ways to be able to achieve a flawless butt. 
Which one to choose and which one to leave is where the real problem lies. That is why Dr. Kole is here to help you understand your options and which may be best for you.
Brazilian Butt Lift, or BBL
This is one of the most popular methods among celebrities to get their butt enhanced. Known as Brazilian Butt Lift or butt augmentation with fat transfer, the process involves removing fat present in excess in your body and using that fat once it has been purified, by injecting it back into your butt to enhance its fat content and look. 
The procedure can usually be carried out with one incision at the top of the butt crack which would be hidden by even the smallest G-string. The injection of fat is placed across the butt to give a round and full contour or to fill out flat spots.
The fat will be injected at different depths along the buttocks to ensure that they are perfectly contoured and their shape enhanced leaving a natural non-surgical look.
Butt Implants
The butt implant is another procedure that was regularly used prior to the inception of the Brazilian butt lift procedure. This is a surgical procedure whereby an incision is made in the tailbone, a pocket created between the butt muscles and a soft, solid silicone is placed in that pocket. These are adjusted to give the buttocks a proper shape before suturing the incision.
Which Butt Procedure has a Faster Recovery?
The rate of the procedure is often something that will weigh heavily on the decisions taken. Patients who have undergone a Brazilian butt lift can often return to work within a week or so of the procedure.  
After a butt implant though, a patient will only be able to return to work after 2 weeks of the surgery. It takes two to three days to be able to walk properly after a butt implant. Typically, Brazilian Butt Lifts are faster to recover from the significantly smaller incision and not having to damage the muscle by placing an implant.
Side effects and Risks of Butt Procedures
Dr. Kole wants you to be aware that both of these procedures hold a considerable amount of risk and can often have a number of side effects. 
Typically with Brazilian Butt Lifts, the common side effects and risks are:
Bleeding

Scaring

Infection

Reabsorbing of some fat

Contour irregularities
On the other hand, as far as butt implants are concerned, their risks and side effects are:
Swelling

Bleeding

Muscle/Nerve Damage

Malposition of Implants

Asymmetry of Implants

Infection
The Answer is…
Whatever procedure you choose will largely depend on what you are comfortable with. Yet, if you are looking for a safer, healthier procedure that is closest to the natural functioning of the body, Brazilian Butt Lift should be your choice.
 If you want to schedule a private complimentary consultation, The Kole Plastic Surgery Center  is your answer. You can schedule with Dr. Kole by calling his office at 215-315-7655 and learn which butt augmentation procedure is right for you.