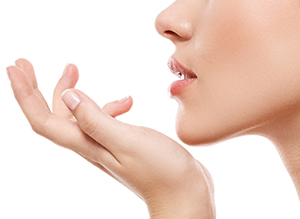 Double and triple chins are some of the most difficult cosmetic issues for men and women. Exercise and diet do little to nothing to improve the neck area, and the excess skin and fat adds years to your age and makes you look unhealthy. In the past, patients who wanted a more toned neckline had to undergo liposuction and other surgery, but now you have a non-surgical option.Yes, you can eliminate your double and triple chin without liposuction! Allergan®, the makers of today's leading injectable cosmetic treatments, has recently introduced Kybella® to their product line. Kybella® uses a unique formulation to target unwanted fat cells and melt them away. Imagine watching the fat under your jawline simply fade away.
Deoxycholic Acid: Kybella®'s Secret Weapon
Many dermal injectable fillers work by increasing the amount of natural substances in your skin, such as hyaluronic acid and collagen. Kybella® also uses a substance that occurs naturally in your body — deoxycholic acid that is found in the human digestive tract. The acid works by targeting fat from the foods you eat and breaking the fat down to be absorbed and eliminated by your body. The FDA approved Kybella® for treating double and triple chins with deoxycholic acid to produce similar results — target and destroy excess fat cells. The product also stimulates collagen production to tighten and smooth the skin.
Am I a Candidate for Kybella® Treatments?
Dr. Kole is an experienced board-certified plastic surgeon who understands the benefits and limitations of Kybella® treatments. Candidates for the procedure should have:
Good skin elasticity
Mild to moderate fat localized to the area under the jawline and chin
A well-defined and properly developed jaw bone
If you are not a good candidate for Kybella®, Dr. Kole may recommend a neck lift or liposuction to remove loose, sagging skin in addition to the excess fat. If you have a deep under-bite and small chin, Dr. Kole may recommend other skin rejuvenation treatments, such as chin implants.
Patient Choice is Key
Having plastic surgery or cosmetic injections appeals to many men and women, but you should take your time to consider all of your options. Dr. Kole meets with each person individually to better understand their aesthetic goals and to provide the expert guidance they need to make an informed decision. You should never feel pressured to make a decision immediately about your cosmetic procedures. If you want more time after the consultation, the staff at Kole Plastic Surgery Center Center is always available to answer your questions.