What to Expect During and After Laser Skin Tightening
Published on October 4, 2019 by
Kole Plastic Surgery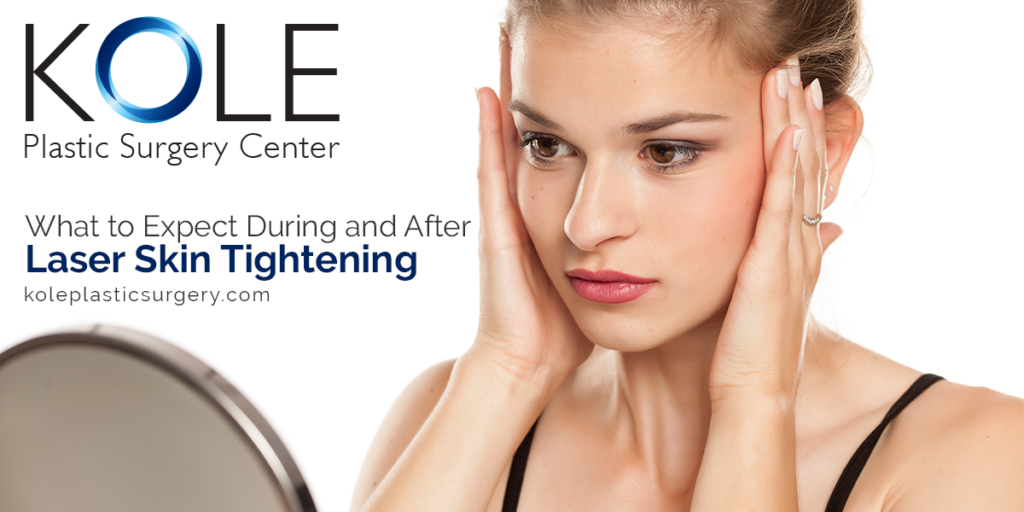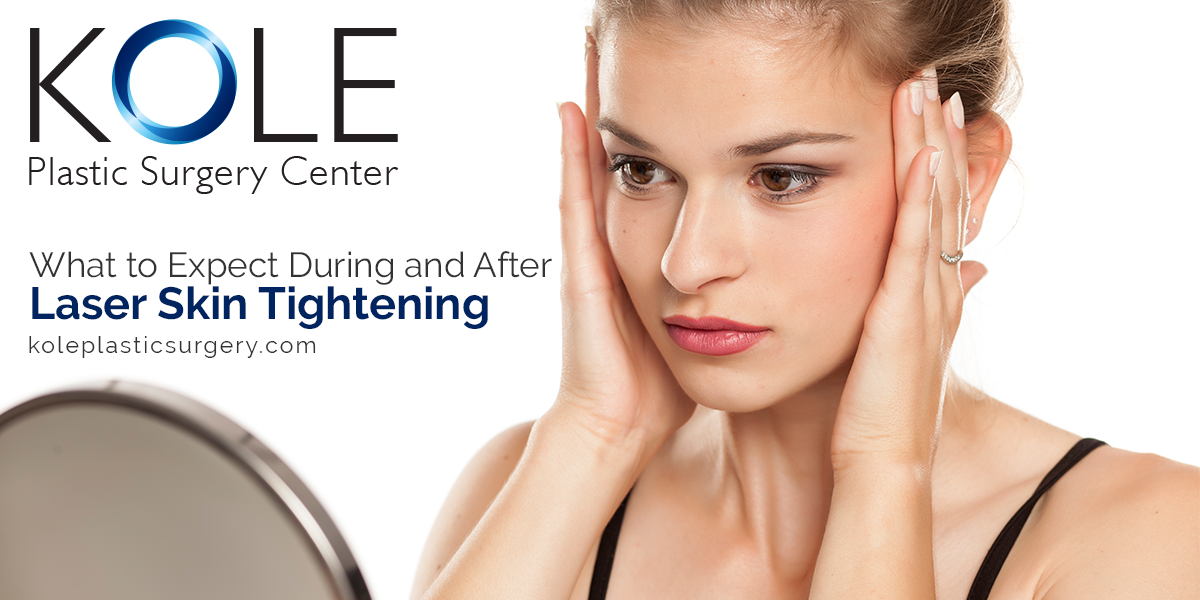 Expectations for Laser Skin Tightening
Plastic surgery is in high demand in the Philadelphia area as it is in many parts of the country. At the Kole Plastic Surgery Center, we have seen this demand firsthand. Those seeking Bucks County plastic surgery have come to us for rhinoplasty (nose job), breast implants, breast lift with implants, facelift, neck lift, tummy tuck, lip injections and many other procedures in the Philadelphia area. Another common procedure we perform is laser skin tightening and rejuvenation.
How Laser Treatments Work
There are two general types of laser treatments. One simply heats the skin, which causes skin cells to move closer together. This results in a tightening of skin to treat sagging skin or to reduce fine lines and wrinkles. Another type of laser treatment involves the removal of the top layer of skin, and this helps remove sun spots, unwanted tattoos, acne scars, hyperpigmentation and other blemishes.
The type of laser treatment you need will be determined by what you are trying to accomplish from laser treatment. Skin tightening is a common procedure. A plastic surgeon in Bucks County, PA can use a laser to remove fine lines around the eyes and mouth as well as other facial wrinkles.
What to Expect With Laser Versus Surgery
Many people who are considering going under the knife when contemplating plastic surgery, whether it be for breast reduction, breast lift, facelift, body sculpting or any number of other procedures in the Philadelphia area, find the preparation and recovery times to be a daunting prospect. Having to take time off work is not an option for some people, and laser offers a minimally-invasive method of getting good results with little to no preparation and no downtime afterward.
Of course, laser technology can only accomplish certain things. It's great for reducing fine lines and wrinkles or will help revitalize your skin by removing the top layers of skin that have blemishes on them. You will still need actual plastic surgery for things such as a breast lift in Philadelphia and other procedures that require more extensive changes to your appearance.
Plastic Surgeon in Bucks County, PA for Laser Treatment
At the Kole Plastic Surgery Center, our treatments and procedures are performed by Dr. Edward S. Kole. He is a board-certified plastic surgeon who has been performing plastic surgery in Southampton for two decades. His experience has included such varied procedures as lip injections in Southampton, breast enlargement in Southampton, rhinoplasty near Philadelphia and any other type of injectable, laser or cosmetic surgery procedure in Southampton that you may desire.
The best type of treatment for you will vary given the results you are looking for, and a consultation with Dr. Kole will enable you to get the information you need to make the best choice for your situation. To get a more youthful appearance in your face, in particular, laser skin tightening and rejuvenation can be a life-changing experience that makes you look as young as you feel inside and gives you that extra bit of confidence you've always wanted. If you're considering Bucks County plastic surgery, please give the Kole Plastic Surgery Center a call, and our board-certified plastic surgeon with 20 years experience in private practice will give you all of your cosmetic surgery options in Southampton.