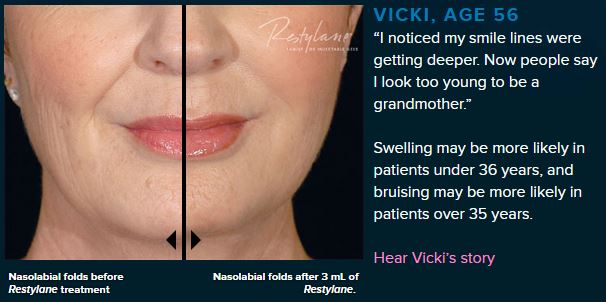 Injectable fillers have surged in popularity over the years, largely due to the increasing reliance of celebrities on the procedure to enhance their appearance. There are many types of injectable fillers on the market that can be used to rid your face of wrinkles, ageing lines and make you look younger and more desirable. Restylane is one of them. This blog looks at some of the common questions about Restylane and outlines the answers to them.
What is Restylane actually?
As highlighted above, it is an injectable filler which can be used to rid your skin of its signs of ageing or to enhance your lips. It is an injection that contains hyaluronic acid which can increase the volume of your skin and make it more hydrated. Despite being found naturally in our body, as time passes, our body experiences a loss in hyaluronic acid which results in the sagging and wrinkling of our skin.
When your skin is injected with Restylane, it is swelled with water which results not only in the plumping of sagged areas on your face, but also smoothening away of the wrinkles on your face, making you look younger than you actually are.
Who can be a good candidate for Restylane treatment?
People who are suffering from one of or all or most of these symptoms can opt for a Restylane treatment to get their remedy. The symptoms are as follows:
Deep and fine lines
Sagging Cheeks
Uneven facial fullness
Loss of lip fullness
What Results can one expect from this Treatment?
People who undergo a Restylane treatment often have high expectations. This treatment is one that produces immediate improvements to your face by giving you plumper, younger looking skin with minimal swelling or pain. The results of this treatment will usually last for around 6 to 9 months; however this can vary on a patient to patient basis. Getting follow up treatments is necessary to maintain optimum results.
What Area can be treated by Restylane?
The use of injectable filers like Restylane can be made in a number of different places on your face. These places include:
The use of the treatment can be made to give definition to the lips, add a plumper look to your thinner lips and to smooth out the facial lines that you may get as a result of old age. Also, people who suffer from wrinkles typically use this treatment to rid themselves of them.
One of the reasons for the popularity of this treatment is the fact that it is a cost effective and fast medical procedure that produces instant results. Moreover, all of that is done without having to go under the knife and suffering post surgery weeks of rehab and recovery.
Injectable fillers have quickly made a mark in the industry today. If you live near the Philadelphia, Bucks County or Montgomery County area and want a complimentary Restylane consultation, contact us at www.koleplasticsurgery.com or visit The Kole Plastic Surgery Center Center at [primary_address] Southampton, PA, [primary_state] or by calling 215-315-7655 today!