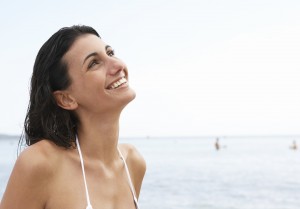 To determine the age of a person, all you have to do is observe their neck; and this is also why we, as adults, are extremely sensitive about our necks, starting from an early age. And this sensitivity doesn't go away as we grow older, but only seems to increase more and more. We fear getting old because that is a loss of the youthful looks that we pride ourselves in.
Getting old means having loose and sagging skin, muscle laxity, excess fat, etc, which can take a person's confidence away because majority of the times, the person in question looks older then he/she really is. While most signs of ageing can be hidden, there are some such as a turkey neck, skin banding, or a double chin which are almost impossible to hide.
Good news for you! You can utilize an extremely effective option when it comes to addressing the issues of an ageing neck and rejuvenating your overall appearance. This can be done with the help of a neck lift 'surgery' that isn't actually a surgery! Now, you can have your youthful appearance back, along with your confidence, by this incredible non-invasive laser procedure.
Skin Tightening with Precision TX, A Technology by Cynosure
Why should you opt for Precision TX, especially if you are looking for an alternative to neck lift surgery? Well, it's fairly simple. Not only is this minimally-invasive method a much better alternative to traditional surgery, but the way it works and gives results is magic!
A revolutionary and minimally-invasive treatment, it helps tighten the loose skin of your neck and provides a far more refined and youthful neckline as compared to necklift surgeries. Not to mention, the results can be seen very fast which means that this alternative is even better than following a grueling weight loss and diet program!
The treatment takes only about 60 minutes to be completed, while its laser capability ensures that the entire procedure is as minimally invasive as is possible. You want to know the best part? Local anesthesia and oral sedation is used when performing this simple but effective office procedure.
Benefits of Precision TX
Nicknamed as the 'knife-less necklift', the Precision TX procedure gives all the benefits of a necklift without having to undergo the invasive surgical procedure, which requires general anesthesia to be applied before starting. There are a number of other benefits as well, including;
Accurate and efficient melting of the excess fatty tissues
Use of local anesthesia
Predictable and reliable results
A minimal recovery time
Tighter skin
Much safer than other laser treatments
New collagen production which means long lasting results
So, if you are tired of looking in the mirror and seeing something which is unattractive in your eyes, visit us to have it fixed! Call Kole Plastic Surgery of The Kole Plastic Surgery Center Center at 215-315-7655 today for a complimentary consultation. We are conveniently located at [primary_address], Southampton, PA serving in the Philadelphia, Bucks, and Montgomery County areas since 1998, which means that we are the best!